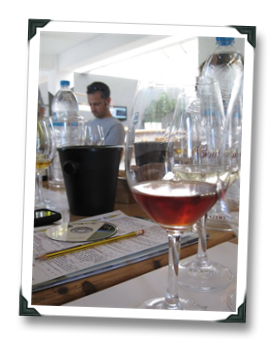 Welcome to the first installment of Going Pro – what (I hope!) will be a (very) long series chronicling my foray into making whatever-the-hell-it-is that I do here a professional (read: paying) endeavor.
Every Wednesday on 1WineDude.com, I'll be writing about some aspect / story / triumph / tragedy related to taking my passion – connecting YOU with the experience of wine – full-time.  I plan to do this every Wednesday until, well, until one or more of the following conditions have been met:
I've "made it big" and no longer have time for the unwashed masses because I'm too busy cleaning my fleet of yachts.
I can't get Internet wi-fi reception from my cardboard box under the bridge.
The articles have run their course and are no longer valuable (except to me as a means of therapy).
Okay… you're right… number three will almost certainly never happen because I need all the therapy I can get.  Anyway…
The inaugural post  in this series is gonna be a loooong one… but I think you'll find it worth the reading time commitment, and I hope you'll be sufficiently moved to chime in with your thoughts.
I had a conversation with my friend Steve Heimoff about tasting preferences vs. wine ratings in the comments of a post last week, the topic of which had nothing whatsoever to do with tasting and rating wines (or, at least that's what I thought when I wrote it, silly me!). That comment-convo seems pretty benign on the surface but it had some profound implications for me (probably because I ended up sort of talking to myself… more therapy… ok, maybe I need a drink…).  Implications that get to the heart of how I taste and rate wines, which n part gets to the heart of what it means to Go Pro with wine.
Now, much to the surprise of a lot of people, none more so than myself, I'm now in the invigorating and strangely frightening  position where my views / reviews on wines actually matter to some people. I'm the kind of guy who, literally to a fault, doesn't want to let people down, and so I've had to take the position of rating and describing wines much, much more seriously in recent months – and I'd argue that this change in perspective is essential if you even want to start thinking about going pro when it comes to wine.
And since my approach to tasting is so dramatically different to what most of us are used to in the conventional wine press, it seemed a good place to start the Going Pro discussion…