Lithe, balanced, light, and polite wines are de rigueur in the wine world at the moment.
Now, I love those wines, but my tastes are quite catholic, and so I dig (well-made, authentic) wines of all stripes (okay, excepting possibly Retsina). And once in a while, after sampling lots of lithe, balanced, light, and polite wines, I want something that is brazenly, almost stupidly, nearly obnoxiously in the other direction.
Enter two 2008 Italian wines from the sample pool, to the rescue!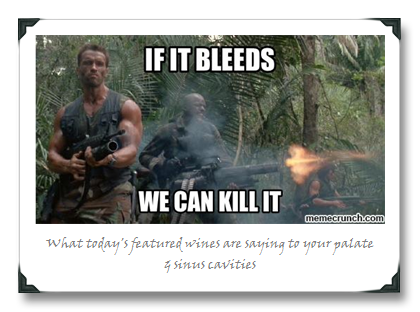 The I-don't-give-a-flying-crap-whether-or-not-you-like-me territory is usually reserved for fortified wines, occasionally you run into non-fortified versions in the vinous world, of which I am about to give you two examples. If the two wines featured here today had a theme, it would be "If it (meaning your palate) bleeds, we can kill it" (insert Ahhhhhrnaaaaaaald accent here).
I do NOT mean that in a bad way, as in they are palate-killers. I mean only that they unabashedly engage on an onslaught on your senses, and they make no ones about doing so.
Basically, these wines are kind of like Dutch and Dillon facing off (and flexing) in Predator. They don't need to add the "[comma] f*ck-face" to the end of their sentences, because it's implied by their baddass-ness. But since they don't give a flying f*ck, they probably won't say anything to you, anyway. The conversation between some (probably most) of you out there and these wines would look a little like this:
You: Hmmm… I'm not so sure I like these styles…
Them: [ silence, staring at you ].
You: Aren't you guys gonna say anything?
Them: [ eyes narrow, eyebrows lower, silence interrupted by sound of machine guns being cocked ].
You: [ starts to cry ].
The final warning, I suppose, is that if you're not a fan of wines that come on strong, and make a full-on assault of either your sinus cavities, palate, or both, and make exactly zero apologies for it, it's best if you just turn back now…