Merced del Estero, in the über-sunny San Juan region of Argentina, has been tending vineyards under the care of the familia Rodriguez  for three generations, since 1897.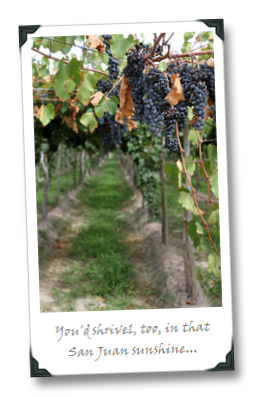 But it took me just one iteration of the annual
Argentina Wine Awards to help screw them up a little bit.
MdE was one of the producer visit stops for a group of about half of AWA judges that followed the awards judging, seminar and winners' gala in February. It was also one of the most unassuming – twelve hectares of estate vineyards, west of the Tulum Valley, close enough to the Andes to be impacted by the hot sonda winds, and sitting about 700 meters above sea level (which sounds impressive, but that's about average for a lot of fine wine grapegrowing in the high elevation dessert of Argentina).
The first thing that you notice about the Rodriguez family vineyards – if you're a geek like me, I mean – is that many of the vines are trained in pergolas, reaching fairly high off the ground. The second thing you'll notice is that the Bonarda (planned to be introduced to the MdE lineup this year) on the sunnier, exposed areas of the pergola are practically… raisins.
Which you'd resemble, too, if you were openly exposed to that punishing sun for as long as they are…