Premiere Napa Valley – the annual auction event in which Napa Valley Vintners members create small-quantity, one-of-a-kind wine lots that are then bid on by wine industry/retailer types – is, basically, a total zoo.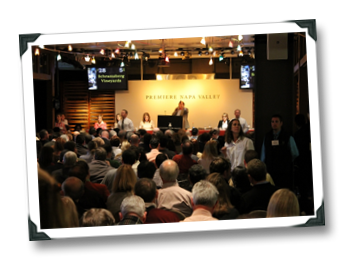 And I love that it's a zoo. It's my kind of wine geek's zoo: equal parts social event, fund-raiser, total chaos, and killer (but often big, thick, dense, tannic) juice. As I have for the past few years, I spent the last Saturday in February at the Culinary Institute of America in St. Helena, tasting some of the NVV's ultra-premium wares and watching the subsequent auction action (which becomes SRO rather quickly in the CIA's top-floor conference area).
PNV is viewed as a bit of a bellwether for the U.S. fine wine biz's economic outlook in general. I've seen it in lean years, when the parties are subdued and the auction results are pleasantly surprising when they're decent. And I've seen it in years like 2012, when the parties were packed and everyone's hopes were higher than the abv % in most of the Valley's biggest Cab blends.
If PNV is a true wine biz litmus test, then the high-end of the market should feel pretty good, because the auction raked in $3.1M this year – a 31% increase over last year's record take-away. The top lots went courtesy of Dana Estates, Kapcsandy, Ovid, Checkerboard Vineyards, Vine Hill Ranch, Joseph Phelps, Amuse Bouche, Duckhorn, Silver Oak, Levy and McClellan, and Shafer. And no, those were NOT necessarily my personal faves from the event, but I'm not bidding on any PNV lots so what the hell do I know. You can see who paid what for what by visiting www.premierenapawines.com (you know, in case you're in the mood for spending $1000 on a bottle of Napa juice).
So… PNV's results suggest sunny days ahead for the fine wine market, but how were the wines themselves? In short: big (but not always!), oaky (but pretty well balanced), tannic as all get-out (but not exclusively) and for the most part really friggin' good. In fact, one of them may have been the best PNV wine I've ever had (and one of the greatest CA wines I've ever tried)…