I hope you'll forgive the quick-hit, "I was there, maaaaaan!" style post, but I'm still en medias res on my Napa jaunt, in which I've culled the raw material for what I think will be some great content for Playboy.com, Wines.com, and of course keeping the geekiest stuff for right here on 1WD.
But in between under-sleeping and breakfast, I wanted to give you a very brief run-down of a few of the more exciting things to which I was exposed while on the trip so far (other than the 80F weather and sunshine, and partying, I mean).
Leggo My Breggo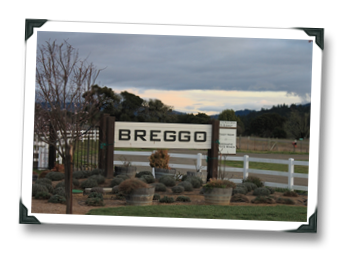 Boonville might be a bit of a sleepy little hamlet in Northern CA (okay… not might… and not a little…) but the wine scene in the nearby, relatively cool-ish Anderson Valley growing area is actually quite dynamic, if the poised wines of Breggo Cellars are any indication, anyway.  Breggo, by the way, is Boontling for "goat" (Boontling being a ribald sort-of dialect of American English that "developed" among the local, relatively-isolated farming community in Boonville in the 19th century… and no, I am not making that up).
It seems a bit of a coup that Cliff Lede scooped up Breggo in 2009, and with it their tall, lanky, mild-mannered winemaker Ryan Hodgins. Hodgins is one of those winemakers whose Alsatian-style vision for the wines – nearly as lean and angular as his own tall frame – is transparently open in just about every whiff of the juice he's creating.
Breggo's Savoy Vineyard Pinot Noir is furthest along that continuum, a meaty, structured, complex wine that is able to offer grip and heft in a Pinot but still remain pretty and not feel like it's brooding over your impending doom. Their whites, though, seem to get Hodgins the most excited and that's probably because, while very good, they've yet to achieve the same port of arrival vision he's got in mind for them. The Gewurztraminer in 2010 is rose-petal central, with ginger and limes, and tasting back to the 2008 showed great potential for laying the tuff down (think vinyl, hazelnuts, lychees, lemons).  Their Riesling is also no joke, with the 2009 being a pretty, floral, pear-wielding, chalky, grapefruity pleasure. I'm looking forward to seeing where this guy takes these wines over the next several years…