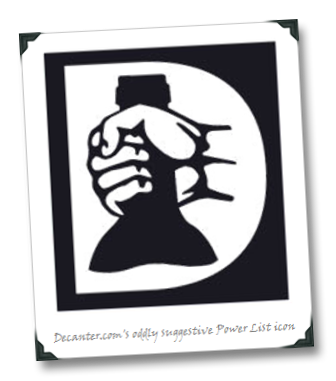 In a move that seems to be a big deal (especially to its publisher!), last week Decanter unveiled the 2011 version of their bi-annual Power List of the wine world's most influential people.  The biggest news, it appears, is that Richard Sands, the chairman of über-wine-brand-consolidation company Costellation Brands, no longer occupies the top slot – that now belongs to Pernod Ricard's chief executive Pierre Pringuet.  EGADS! I know I'm gonna be losing sleep over that one for some time.  Ok, probably not.
Far more interesting (to me), however, is the inclusion in their top twenty of the now-ubiquitous and fuzzily-conceived idea of the Wine Blogger:
Finally, making a first appearance at number 16 is a character whose influence has grown exponentially over the last two years: the Amateur Wine Blogger. 'As social media continues its relentless online spread, everyone is now a critic,' Decanter says.
By the way, I use the term "fuzzily-conceived" with respect to wine blogging because just about anyone who is anyone in the wine world is blogging now anyway (props are certainly due to Decanter for recognizing the dispersed-but-powerful influence of the citizen bloggers – which is fun to say, by the way… "Hail! Fellow Citizen Blogger!  We're Number Sixteen!  How fares Scandinavia?").  So can we really – or even should we – differentiate blogging as somehow the outside-looking-in of wine media anymore?…