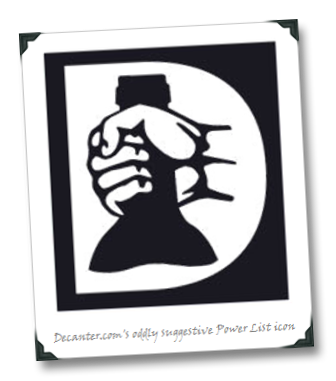 In a move that seems to be a big deal (especially to its publisher!), last week Decanter unveiled the 2011 version of their bi-annual Power List of the wine world's most influential people.  The biggest news, it appears, is that Richard Sands, the chairman of über-wine-brand-consolidation company Costellation Brands, no longer occupies the top slot – that now belongs to Pernod Ricard's chief executive Pierre Pringuet.  EGADS! I know I'm gonna be losing sleep over that one for some time.  Ok, probably not.
Far more interesting (to me), however, is the inclusion in their top twenty of the now-ubiquitous and fuzzily-conceived idea of the Wine Blogger:
Finally, making a first appearance at number 16 is a character whose influence has grown exponentially over the last two years: the Amateur Wine Blogger. 'As social media continues its relentless online spread, everyone is now a critic,' Decanter says.
By the way, I use the term "fuzzily-conceived" with respect to wine blogging because just about anyone who is anyone in the wine world is blogging now anyway (props are certainly due to Decanter for recognizing the dispersed-but-powerful influence of the citizen bloggers – which is fun to say, by the way… "Hail! Fellow Citizen Blogger!  We're Number Sixteen!  How fares Scandinavia?").  So can we really – or even should we – differentiate blogging as somehow the outside-looking-in of wine media anymore?…
Flipping the screw-cap top onto its other side (and speaking of Scandinavia), some traditional media sources have been running articles about the influence of wine blogs.  For example, Oscar Quevedo (whose red blend was featured here last week) recently blogged about just such an article he spotted in "the biggest Norwegian wine magazine." Of course, the Norwegian article could be saying that this blog bites a big rød pølse, I wouldn't now because I can't read Norwegian (or Swedish, Jamtlandic, Elfdalian, Icelandic, Faroese or Danish, either).  On a similar note, earlier this week I was interviewed by a journalist (she is not Norwegian, but she does live in a cold northern U.S. state) who is writing a piece on wine blogs (more on that if/when it sees the publishing light of day).
As for Decanter showing the wine blogging world some love in its top twenty, it's great to see them catching up on things in the wine world. Hey, Decanter: welcome to 2009, baby!
Now, before you (or especially I) get too glib about all of this (or is it too late already?), I feel compelled to point out that Decanter's past Power Lists are hardly without fault / ability to engender controversy.  Case in point: within their 2009 power list's top ten (coming in at number nine) was the European version of George W. Bush, the French premier Nicolas Sarkozy – which feels amazingly, disturbingly wrong.  I mean, if his inclusion was for reasons of political influence over a prestigious winemaking region, then where the f*ck was Schwarzenegger, eh? Plus, Schwarzenegger just kicks so much more ass – literally- than Sarkozy… So what if Burgundy sells for like 14,000 euro per bottle, right?  Okay, you're right… I'll shut up now…
Cheers!