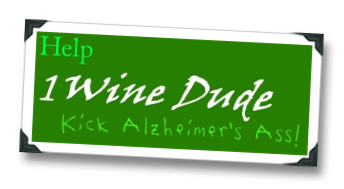 I wrote a few years ago about links between moderate wine drinking and lower instances of dementia. This is because, at the time, my grandmother suffered from Alzheimer's disease.  She died from it, at the age of 96 – but the truth is, she was all-but-dead years before that, bedridden and unable to care for herself, or recognize us.  Caring for her placed an almost unbearable emotional toll on my family.
Under the definition of "pain" in the dictionary, there ought to be something like "having an elder family member who you've known your entire life look back at you with a worried, frightened stare because she doesn't know who you are."  I would LOVE for my family to be one of the last who ever had to go through that.  That's wishful thinking, of course – but it doesn't mean we can't help move forward the day when we talk about the very last Alzheimer's victim ever in the past tense.
So I'm once again asking you to prove how awesome you are by donating to help KICK ALZHEIMER'S ASS!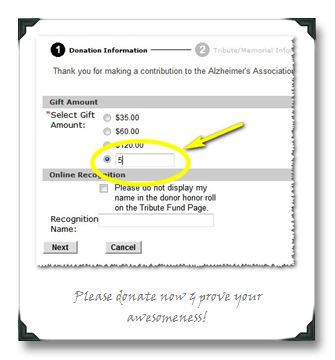 YOU can help, you need to help, and it's easy. Just surf on over to the Help 1WineDude Kick Alzheimer's Ass donation page, and make a donation. You can donate as little as $5  [ insert reference to skipping one cup of over-priced coffee at your fave coffee chain shop here ] – take a look at the inset pic from the donation page to see how easy it is.  It will take you something like 2 minutes (unless you're drunk, then it might take a bit longer).
A little (evil) voice inside your head might be telling you it's okay to wait, or to skip out, because surely someone else who's reading this will donate anyway.  But waiting or skipping out is for chumps – and you're awesome, which means you're no chump! By the way, if the evil voice is telling you other stuff, like "go rob a bank," then you might want to speak to a professional (very soon)…
Become a fan on Facebook. Tweet the hell out of links to the donation page.  But most importantly, please donate now!  Wine-related?  Nope.  But it will make you feel good (and it's cheaper than a bottle!).
Cheers… and THANK YOU!