"No one really gets to try older Long Island wine… because, well, there really isn't any!"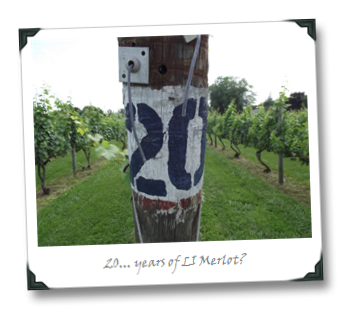 James Silver, General Manager of Peconic Bay Winery, was telling me about the dearth of older vintages for LI wine, as we stood on a small deck last weekend, overlooking their Cutchogue, NY property near the eastern edge of Long Island's North Fork.  The sun was just starting to gain the strength it would need to banish the cloud cover and make for great outdoor picnic-and-wine-tasting weather (it would eventually prove triumphant), and the Peconic Bay staff was below us, a cadre of young, energetic mostly-twenty-somethings in PB t-shirts, bustling about like honeybees and getting the property ready for the days' event – which happened to be, in an odd collision of personal worlds, my band's trio performance under the "porch tent" for the afternoon.
James grew up in Chester County, PA, which my band calls home, and after discovering that a) I had a band and b) we were from Chester County, the urge to conjure up a Chester Co. Connection proved too great for him to pass up. Either that, or it helped him forget about the fact that taxes in LI were about a billion times higher than they were in his hometown.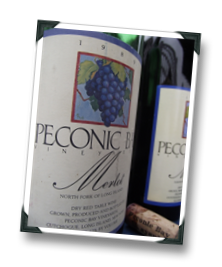 I was serving double-duty, of course – no self-respecting wine geek shows up in LI on the same day that 20+ years of local Merlot are being poured and doesn't try to crash that tasting. As James pointed out, it doesn't happen everyday in an emerging wine region where the oldest vines generally tend to date back, at most, to the mid-eighties. My band was due to start playing only about an hour after the tasting would end, but there was no way I was going to miss this – screw 'em, they'd have to settle for me setting up my bass gear in manic-mode just before soundcheck.  Twelve vintages of Peconic Bay Merlot dating back to `89 were being poured that morning, with all but three of them being made by Peconic Bay winemaker Greg Gove (the `89, `95 and `97 were products of the late Ray Blum who helped to found the winery)…