I think traditional American wine-writing may have totally jumped the shark.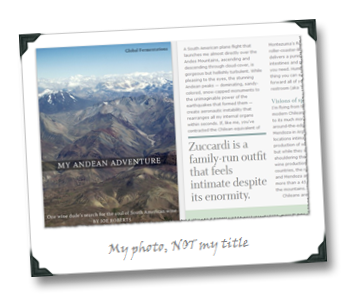 Yeah, I am actually going there.  And yeah, it will probably take around 1100 words.
You see, last week marked my (extremely) long-overdue second contribution to Nomad Editions' iPad wine magazine, Uncorked. The long-overdue part is entirely my fault – things have been busy, as in senator-on-the-campaign-trail-trying-to-hide-his-mistresses-from-the-press level busy, enough so to keep me from contributing weekly.
The Uncorked story is titled "My Andean Adventure: One wine dude's search for the soul of South American wine" and it's core topic is more-or-less my bout with the Chilean version of Montezuma's Revenge (you know the title isn't mine, because I would have called it "Joe's Colon Vs. The Diabolically Banal South American Budget Wines" or something similarly tasteless), and includes photos of mine as well, taken on a camera that costs less than $200, and so marks one of the few times that I've also been a contributing photographer (cue eye-rolling from any serious photographer reading this).  You'll have to subscribe to read the article, but at less than $1 per month for a weekly wine mag that includes regular contributors like Tom Johnson (of Louisville Juice) and sommelier / award-winning author Courtney Cochran, you'd have to be a pretty hard-ass cheapskate wine lover to pass it up.
The thing that got me musing about wine writing jumping the shark was that my first draft of the Andean wine travels article was rejected summarily by Uncorked's editor, (writer and winemaker) Stephen Yafa.  Stephen's words from the Editor's Note of last week's issue:
"When Joe Roberts sent in his article on wine-touring in Chile and Argentina, the piece was wrong for all the right reasons. It was objective, balanced and unemotional. It wasn't Uncorked, or Joe."
Stephen is an excellent editor, and like all good editors he has knack for being right…
I'm pretty sure that people don't read this blog for a balanced and unemotional take on wines and the happenings of the wine world.  Objective – or at least as credible as possible within the context of Op/Ed writing – maybe, but balanced and unemotional? No way.
That's not by accident.  Why read a blog – any blog – if not for the character and opinion of its author(s)?  In my view, it's the "personal-ness" of any blog that makes it compelling enough to warrant spending my increasingly-limited free time reading it; if I wanted anonymous, scrubbed-squeaky-clean coverage, I'd go look for it on CNN.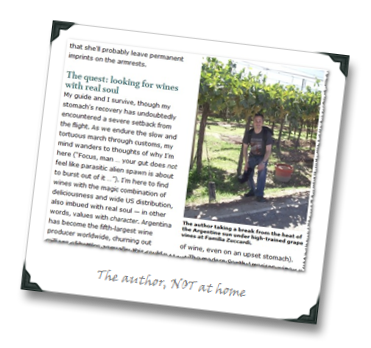 Stephen knows all of this, so when I gave him an article that would have worked for a more traditional outlet, he stopped editing it at the second paragraph and basically said (paraphrased and reinterpreted) "WTF is this?  Because it's not you."
So I wrote about my gut instead, and managed to weave in my quest for trying to find wines with real soul and character from a region (South America) that is arguably better-known for its near-endless parade of banal, value-for-money selections – and resubmitted it to Stephen.  The result was… well, it's unique.  Let's put it this way: if you could wait for the universe to expand, collapse, and recreate itself over several trillion years while somehow remaining around all the while in disembodied form to read wine coverage, you are still never going to find this kind of story printed in the major wine glossies.  I give Uncorked props for having the guts (pun intended) to "print" it.
And in thinking in retrospect about the search for true "soul" in wine in South America – for flawed-but-more-colorful and characterful standouts among a sea of the polished, slightly-better-than-average but ultimately forgettable – I drew a parallel to the wine writing world that seemed… eerily familiar.
So much wine writing is too "safe."  It's formulaic, and as talented as the contributors and editors may be in terms of their writing and tasting skills, their genius is being lost in following formulas.  Formulas are not what you use when you're going for unique expression – they're better suited to other tasks, like helping robots make cars. And yet we encounter formulaic writing at nearly every turn in the wine world; I feel as though most winemaker profile pieces could be swapped out of one major wine pub and plopped into any another, and over 90% of the readership wouldn't even notice any more.
I'm not saying that I have unlocked the Rosetta Stone code of soulful English-language wine writing here, folks. But I am saying that I think the chances of hitting that jackpot it in the major wine publications in circulation today are a lot lower than in the alternative media sprouting up in the spaces in between those pubs.

Wine blogs, and new, edgier beverage publications are, in part, a reaction to the banality of wine coverage. Some of them, of course, ironically fall into that same sea of banality, but the ones that don't… well, they really don't.  They are a joy to read – in large part because of their passion, originality and breath-of-fresh-air-ness. Like the most interesting wines I encountered in South America, the authors and editors of those publications have character and real f*cking soul.  They take chances. Sometimes, like the inevitable X-games-level competition wipe-out, they fail spectacularly – but when they win, they do it in equally spectacular fashion, garnering hundreds of comments or reactions, and continuing and evolving the discussion in myriad unpredictable ways after-the-fact.
I don't know about you, but I'll forgive the embarrassing wipe-outs for the big wins, for the two-way evolving conversations, any day of the week.  They're small payment to endure for enjoying the occasional perfectly-executed surfing of the 70-foot wine writing wave.  In some ways, it takes the surfers with a ton of courage, talent and intensity to make us even notice the sea, and to remind us how difficult it is to rise above it.  Those are the writers and publications that inspire me to take chances and infuse an much "me" into the wine writing mix as I can – the ones throwing caution to the wind, getting back on those boards after each and every time that they fall over, all in the name of pushing for the vino coverage equivalent of a glorious 360-dismount.
Here's to those chance-taking surfers of the wine writing world – long may they not take things too safely!
Cheers!