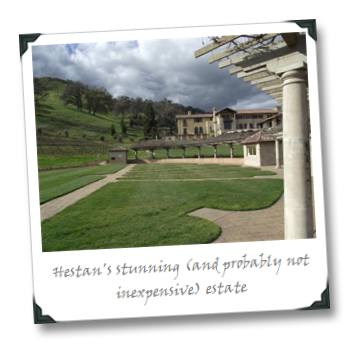 The point when (or is that where… damn, I can never keep that straight) any normal person realizes that Stanley Cheng is loaded, and I mean God-calls-him-when-He-needs-a-loan loaded, probably comes pretty early during the course of meeting him; in my case, it came about ten minutes before I met him, while coasting up the lengthy, gated drive that marks the entrance to his newly-finished home and vineyard estate in the outskirts of Napa Valley.
It wasn't the need for a security gate, the fact that he could actually afford a piece of land that spacious in Napa Valley, or even the fairy-tale mansion at the end of the drive that tipped me off to the Laurentian-abyss-level deep pockets; it turns out I'm too obtuse to pick up even those obvious clues.  In fact, at first I thought the house had to be a winery facility made up to look like a mansion, because it just seemed too big and gorgeous to really be someone's home.
No, for me the moment came when I pulled up to the much sparser but still handsome building a little more than halfway between the gates and the mansion, thinking that it had to be Stanley's house because it was about three times the size of my place.  Then I took a peep through the large glass doors and noticed that I wasn't peering into an office building or a residence, but into a sort of garage / gymnasium.
That's when it hit me that Stanley Cheng had more money than god…