As New Year's Eve approaches, we are greeted with the familiar sights of fireworks, the sounds of annoying Vuvuzela-like party favors, and the coming of cheesy year-end recap. posts!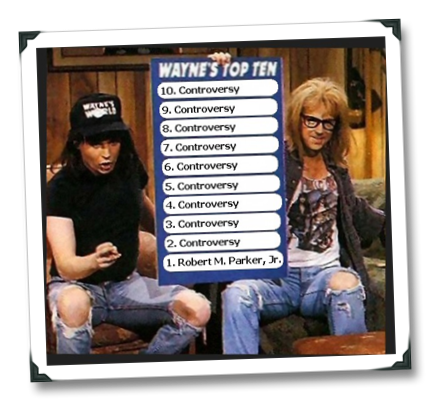 So today, we're not ranking wines, but articles. I had fun pulling together the 2009 recap. of the most-commented posts on 1WineDude.com, so I thought I'd do the same for 2010, using the totally unscientific method of listing all of the posts form the Archives page and ordering what looked like the ones with the most comments.
The rationale of course being that these are the posts that you, the extraordinarily talented, modest, and altogether too-good-looking 1WD readers felt were most worth the effort of contributing your time, passion and opinions.
As was the case last year, controversy (and Robert Parker – honestly… I'm starting to wonder if you folks are obsessed with RMP… you can probably seek help for that, you know…) won out.  I consider the majority of the topics covered in the round-up below (two were giveaways, which weren't controversial but did turn into interesting discussions on how we take tasting notes, and our preferred methods for cork extractions) to be at least somewhat controversial in the wine world.  And then there's what seems to be the holy triumvirate of wine controversy: namely, BioDynamic winemaking, The Wine Trials author Robin Goldstein, and uber-critic Robert Parker…