As New Year's Eve approaches, we are greeted with the familiar sights of fireworks, the sounds of annoying Vuvuzela-like party favors, and the coming of cheesy year-end recap. posts!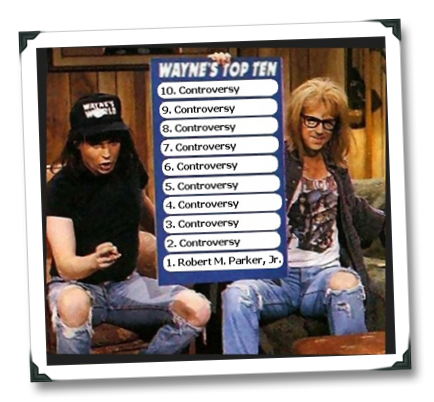 So today, we're not ranking wines, but articles. I had fun pulling together the 2009 recap. of the most-commented posts on 1WineDude.com, so I thought I'd do the same for 2010, using the totally unscientific method of listing all of the posts form the Archives page and ordering what looked like the ones with the most comments.
The rationale of course being that these are the posts that you, the extraordinarily talented, modest, and altogether too-good-looking 1WD readers felt were most worth the effort of contributing your time, passion and opinions.
As was the case last year, controversy (and Robert Parker – honestly… I'm starting to wonder if you folks are obsessed with RMP… you can probably seek help for that, you know…) won out.  I consider the majority of the topics covered in the round-up below (two were giveaways, which weren't controversial but did turn into interesting discussions on how we take tasting notes, and our preferred methods for cork extractions) to be at least somewhat controversial in the wine world.  And then there's what seems to be the holy triumvirate of wine controversy: namely, BioDynamic winemaking, The Wine Trials author Robin Goldstein, and uber-critic Robert Parker…
One interesting trend I've noticed in the latter half of 2010 is that there are fewer comments and a lot more Twitter RTs and Facebook Likes for each post. I'm convinced that by the time we get to the 2011 round-up, comment count will not be a sufficient yardstick for the most interactive posts of the year, and I'll have to do a lot more work to determine the list based on a combination of factors including comments across different social media platforms. If I did that for the 2010 list, we'd have a different number one (the Tim Hanni interview would be the leader by a long shot) and mostly a different list altogether.  And that, to me, speaks powerfully to all of the sand-shifting going on in the social media space – a bit difficult to handle at times, but way more interesting than everything staying stagnant!
Since this is naturally a time for reflection, I've been looking back on 2010 and I'm energized and encouraged – it was, by any reasonable measure, a great year for 1WineDude.com and that's of course thanks mostly to you who read it and give it a life of its own, always taking the discussions in directions that I never could have imagined.  I'm not interested in standing still, though; I promised that things wouldn't stay the same and I do plan on continuing the evolution of 1WD that has taken place in the latter half of 2010 – focusing more on wine itself and particularly on destinations/travels related to wine, of which you'll see much more in the first half of 2011.  For those hankerin' for discussion of wine blogging itself, I'll touch on that as part of my ongoing "Going Pro" series (detailing the triumphs and travails of my foray into making 1WD fiscally viable), so you'll still get a bit of that –  but it's not going to be the main component of 1WD.
Anyway… the year-in-review is below, with the posts listed in descending order of comments received.  Thanks again to you, the 1WD readers, for making this blog what it is, and for being the acidity to my tannins, the pumpkin to my pie, and giving me the continued opportunity to be myself and have fun doing it!
Happy New Year – and here's to another year of crazy-good dialog together!
10) Do You Take Wine Notes? (Giveaway! 33 Bottles of Wine Pocket Notebook Edition)
9) Happier Times = Less Wine? (Will A Better Economy Mean Fewer Wine Blogs?)
8) Biodynamic Wine, Mystified (Is BioDynamics A Bunch of Fertilizer?)
7) Debunking the Argument Against Wine and Social Media
6) "Fun and Messy and Wonderful" – An Interview With Buehler Vineyards' Helen Buehler
5) How To Make Wine Evaluation Even Less Objective? Don't Spit!
4) The Otter Badgers of Wine Reviews: Joining the Wine Rating Revolution
3) Your Screwing Preferences (Giveaway!)
2) Wine Satan or Wine Savior? An Interview With Wine Trials Author Robin Goldstein
1) "The First Serious Wine Blogger": The 1WineDude Robert Parker Interview
Cheers!