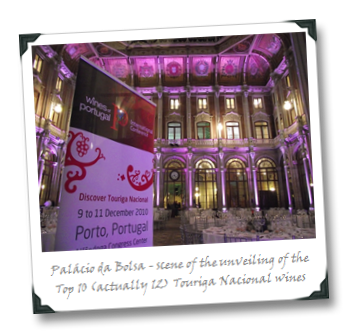 The first thing that you need to know about the recently-awarded Top 10 Touriga Nacional wines from Portugal is that there area actually 12 of them.
Such is the strangeness of Portuguese wine politics that a contest selecting the top ten single-varietal bottlings of Touriga Nacional – the grape on which Portugal's red table wine future seems to be staked (according to the focus attended to it at the 2010 Wines of Portugal International Conference in Porto) couldn't actually stick to the rules of its namesake.
The Top 10 TNs were winnowed down from a list of thirty TN bottlings selected by ViniPortugal (the group who organized the conference and who are charged with promoting Portuguese wines internationally, who got the list down from 80 submitted samples) through a panel of tasters that included MWs Jancis Robinson, Doug Frost and Mary Ewing-Mulligan (among others).  The 12 winners of the 10 were then presented at a gala dinner event at the stunning Palácio da Bolsa in Porto, following Day One of the conference.
While the dinner and surroundings at the Palácio da Bolsa were both stunning, I wouldn't use the same word to describe the vast majority of the Touriga Nacional wines that I tasted…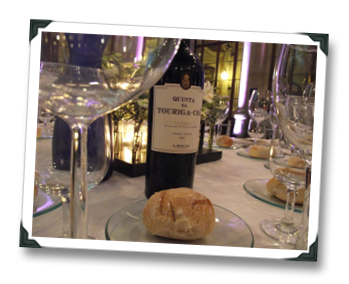 Put simply, I don't "get" the Portuguese wine industry's fascination with Touriga Nacional. Actually, I do "get" the reasons behind the push – they want to rally around a fine wine grape for promotion of their table wines, just as Austria has so successfully done with Grüner Veltliner – but I just don't agree with the choice of TN for that push, and I think the focus is liable to end up wasting a lot of time, money and effort on the part of the Portuguese wine industry.
In a way, when someone says "Portuguese wine" they want you to think of Touriga Nacional instead of prickly and delightful Vinho Verde, or instead of Port – which, apparently after a couple of hundred of years of being the world's best after-dinner drink, we should just forget about.
Touriga Nacional is widely regarded as the finest of the fine wine grapes used in the blend that makes the most beguiling and long-lived Ports on the planet.  Among the Port cognoscenti, there can be little doubt of TNs place at the top of the blending pyramid.  The trouble is that on its own, TN is no Grüner Veltliner, and as such it's a poor choice for a rallying cry of Portuguese wine identity – something that I hinted at in a brief audio interview I did for WineConversation.com during the conference. That conversation ended without me explaining my thoughts on why rallying behind TN is a bad choice, so I wanted to expand on those thoughts here (you can listen to the brief audio interview below).
Touriga Nacional is an interesting grape, or at least offers interesting components in its wines – violets, pepper, red and black fruits, and gripping tannic structure.  You more or less can't make Vintage Port without it, as it's usually responsible for the largest balance of extracted fruit and structure for long-term aging potential.  But on its own, based on my experience with the Top Ten (sorry, twelve!) winners, Touriga Nacional comes on in a flash of florals, peppery spice and dark fruit, and leaves with punch-in-the-gut tannins, and offers precious little in the middle.
The disappointing part I think is that Portuguese wine is absolutely on the cusp of an International renaissance, if given the right marketing focus, precisely because it offers interesting alternatives to the  "same old, same old" offerings that plague wine store shelves.  As Jancis Robinson noted in the introduction to the Portugal Wine Guide (which is freely download-able and worth a few minutes of your time if you're interested in an succinct introduction to what Portuguese wine has to offer):
"In a world in which national distinctions are constantly being eroded, with depressingly similar wines being produced everywhere from much the same palette of grape varieties, Portuguese  wine is some of the most distinctive produced today."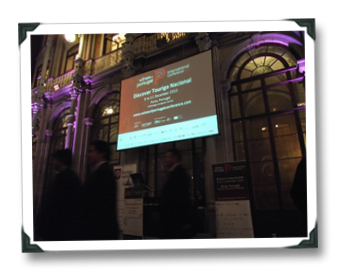 Of course the same things that make TN a bit of an oddity on its own also make it a prime candidate for blending, during which it helps wines achieve lofty heights of potential. But on its own? Not so hot – at least, that was my assessment, and it was shared by some of the Top Ten tasters and several Conference participants (based on my own quick, totally unscientific and very informal poll, mind you).
TN feels more a recipe for an interesting regional curiosity, and much less a product to which you hitch your marketing horses, crack the whip and scream "show us the meaning of haste, fair beasts!"  Are they bad wines?  For the most part, No.  But do they define a national wine identity? Probably not – or at least, not yet.
And so I found myself wondering… in a country with as much beauty, culinary prowess, and fine wine history as Portugal, why not promote blended wines – better than the sum of their constituent parts, more pleasing and eminently versatile – as being an extension of the combination of the varied, rich heritages of this gorgeous country?
I mean, in a market like the U.S., do we really need another barely-pronounceable wine grape on the shelves, especially when on its own it can't stand up next to single-varietal wines with which we're already comfortably familiar? Why not play up the fact that Port provides one of the best wine-value-for-money ratios on the planet? Why not promote the rich red blends of the Douro as a more evocative alternative to Cab Sauv with your next steak?
Why not go with what works? Why not dance with the guys dat brung ya?
I suspect the real answer exists somewhere in the halls of Portuguese politics…
Cheers!