Pronunciation: -jē

Function: noun

Inflected Form(s): plural et·y·mol·o·gies

Etymology: Middle English ethimologie, from Anglo-French, from Latin etymologia, from Greek, from etymon + -logia -logy

Date: 14th century

1 : the history of a linguistic form (as a word) shown by tracing its development since its earliest recorded occurrence in the language where it is found, by tracing its transmission from one language to another, by analyzing it into its component parts, by identifying its cognates in other languages, or by tracing it and its cognates to a common ancestral form in an ancestral language

2 : a branch of linguistics concerned with etymologies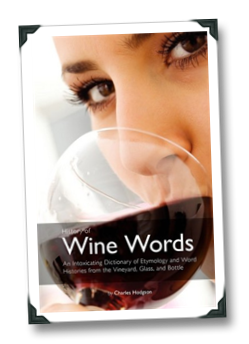 I'm not sure exactly when I fell in love with words.  I think it happened in high school; though I've been a voracious reader for as long as I can remember, I distinctly recall a time in the early Summer during the middle of high school where I became fascinated by the English language, obscure words, and their histories.  I vividly remember devouring books like The Endangered English Dictionary.  It just sort of… happened, not terribly different from how I fell in love with wine, actually.
Mind you, my love affair with wine happened well after high school, since I was of course too young to legally drink alcohol back them… ahem…
Anyway…
I was recently contacted by Charles Hodgson, an author and podcaster about receiving a review copy of his latest book, History of Wine Words – An Intoxicating Dictionary of Etymology and Word Histories from the Vineyard, Glass, and Bottle.  I'm sure that Charles wanted to send me a copy because of the blog (mine, I mean), and not because of my closet desire to be an etymologist, since there's no way he could have known about that unless he's also a clairvoyant (to the best of my knowledge, his podcast is about etymology and not long-distance cross-border mind-reading).
Anyway…