Frequent 1WineDude.com readers may have noticed a sharp-looking widget over in the sidebar titled "3 Wine Picks."  This little bugger comes courtesy of winecliQ, the brainchild of AmericanWinery.com, which I helped to test during their private beta.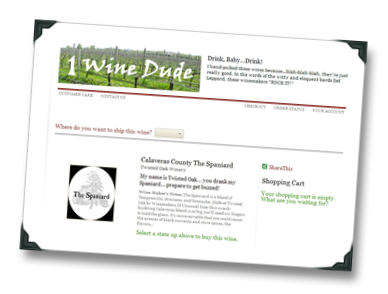 winecliQ has now moved out into public beta, which means that you can jump into the winecliQ fun if you're so inclined.  The idea behind the program can be summed up (in the words of AmericanWinery.com) as "Drink Wine, Get Paid."  A summary / overview from the winecliQ website:
Select your favorite wines at AmericanWinery.com. Add 'em to your winecliQ. Promote your picks through email, Facebook, your blog, website, etc.

People who dig your style buy the wines you recommend direct from the wineries through a secure checkout.

Wineries handle shipping and customer service.

You get cash just for talking about the wines you like.

Now your wine "hobby" can pay for itself!
There are new FTC regulations that could end up throwing a wet blanket on the winecliQ party, but as far as I'm aware there's nothing stopping you from joining and possibly profiting from it in the short term if you have a blog or website.  In addition to the sidebar widget, you can also get a customized landing page for your wine picks, and an "individget" that can be used to highlight individual wine picks (if they're available for sale on AmericanWinery.com, that is).
There's also been a Ning.com social network set up for winecliQ users at social.winecliq.com.  Can't say I'm making a mint from this, but I do like the idea of supporting American wineries that I think are making good juice, and possibly cashing in on that… someday…
Anyway – worth checking out especially if you're blogging about U.S. wine.
Cheers!
(images: winecliQ.com)