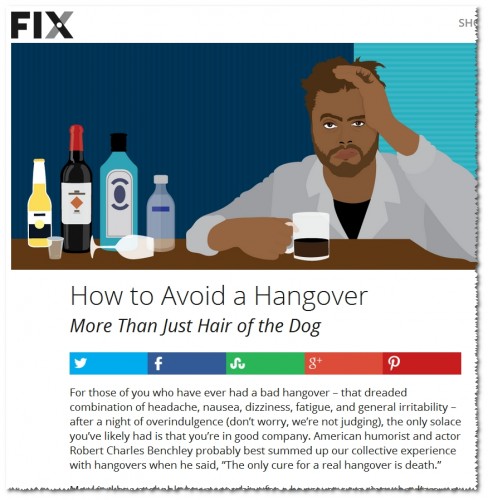 You're welcome.
No, seriously, you're going to thank me later. Because my latest for Fix.com, titled How to Avoid a Hangover, is now live, and reading it just might save you some future pain.
What I found most fascinating in researching our collective attempts at trying to both prevent and stem the effects of hangovers is that, despite some heroic scientific efforts, we have moved the bar very little distance on the matter over the last one hundred years or so.
That apparent lack of progress isn't attributable to poor science so much as it is the work of evil spirits bent on causing us pain and suffering. Er, actually, it's a reflection of the complex chemical processes involved when our bodies imbibe (and imbibe, and imbibe, and imbibe…) and process alcohol. If, as Socrates supposedly said, true knowledge exists in knowing that you know nothing, then we are inching closer to True Knowledge when it comes to hangovers.
Anyway, Fix.com's excellent visual take on the results of my research are available below after the jump. Just in time for the weekend…

Source: Fix.com
Cheers!