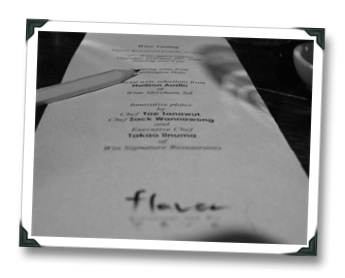 I have a (potentially unhealthy) love affair with Teikoku, the Chester County, PA restaurant that birthed the increasingly excellent and expanded series of Win Signature Restaurants, whose cuisine is headed by Executive Chef and Iron Chef Japan alum Takao Iinuma.
Anyone who doubts the potential success of pairing wine with the complexity and uber-spiciness that is the hallmark of pan-Asian cuisine need only attend one of the Win restaurant's several wine & food pairing events, as I did on a recent trip to Win's Flavor in Wayne to attend their first-ever Wine Appreciation event.
Chef Iinuma takes wine pairing seriously – so seriously that instead of offering selections and helping wine reps chose wines to compliment them, he first tastes the potential wines for each event and then masterfully constructs small plates to highlight the pairing of the chosen wines.  It feels the wrong way around, but if the results are wrong, then I don't want to be right…
There's no mistaking the Asian vibe at Flavor, and the general atmosphere – dimly lit but also inviting – is a cross between a Buddhist temple and a cozy living room.  While Flavor's wine list offers a similarly varied and approachable mixture of selections, Win's wine & food pairing events usually focus on a mixture of in-house and special selections, as was the case during my visit.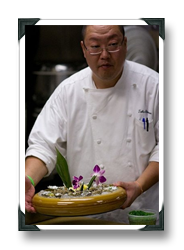 The standout pairing of the night: the vibrant juxtaposition of flavors, heat, and texture of Dionysus Vineyard's Washington State Riesling with Iinuma's Fresh Wild Albacore jalapeno Ceviche.  The apple, honey & flower aromas and searing acidity of the Riesling might be a bit much on its own, but it cut right through the fat of the Ceviche.  Here's how my tasting notes described the experience:
"Like spicy fish meat-butter served by winged Valkyries while Wagner's "Der Ring" blasts triumphantly in the background."
Sure, I was probably buzzed, but there's no doubting a pairing like that!  Lucky for me – and you – that they're planning more Wine Appreciation events at both Flavor and Teikoku.
If you go: Flavor Restaurant – 372 W Lancaster Ave. Wayne, PA 19087 – 610.688.5853
Cheers!
(images: 1WineDude.com, Sugendran.net)