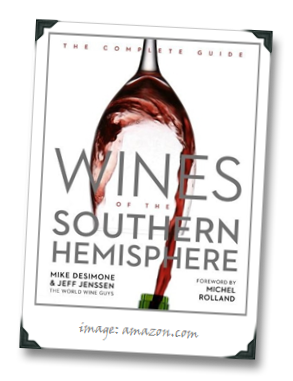 My friends the World Wine Guys (aka Mike DeSimone and Jeff Jenssen) have been busy lately, it seems.
First, they publish the Fire Island Cookbook just in time for Summer, and now that Summer is coming to a close they're already back on the shelves with another well-executed tome, Wines Of The Southern Hemisphere (Sterling Publishing, about $24).
I'm not sure how they did all of this, but I am starting to strongly suspect that illegal human cloning is involved, because the work that seems to have gone into these releases is bordering on astonishing.
I like the book, and since I received two sample copies (not sure how or why that happened), I've decided that we'll give away TWO copies to two (separate!) lucky 1WD readers…
As for the book itself: Wines Of The Southern Hemisphere is nearly 600 pages of excellent information, targeted at budding wine lovers in the Northern hemisphere but chock full of information that Intermediates and more seasoned wine geeks would still likely find quite useful: grape, region, and producer overviews, winemaker interviews and recipes ideas for food pairings with wines from each of the countries "visited" in the course of the book. So in a way, Mike and Jeff have taken the regional overview wine book formula and turned it a bit on its ear, and added their own flair and obvious enjoyment of the various areas' people and cuisine. In that respect, Wines Of The Southern Hemisphere could keep you pretty busy, both as a guide and a source of entertainment and food-and-wine pairing ideas. In fact, the only things I don't like about this book are the fact that the images are all gray-scale, and it contains what might be the single most boring foreword in the history of wine literature, courtesy of über-winemaking-consultant Michel Rolland.
Anyway… here's the skinny on the giveaway:
Leave a comment here noting your fave Southern Hemisphere wine: no restrictions on price, availability, or any other rules other than the fact that it is produced in a country south of the equator!
On October 23rd, I will randomly select two (separate!) commenters who will each take home one copy of the book, something I fear I will soon regret since the book isn't small and the shipping charges probably aren't dirt cheap. Oh, well… don't say I never did anything for you, okay?
Shout out those S. Hemi. wines for a chance to win – and good luck!
Cheers!