Okay, so there are a couple of reasons behind my pronouncement that people ought to be drinking rosé wine all year long and not just during the flowery, blooming, highly-allergenic (I really should have bought stock in a tissue paper company) months of Spring.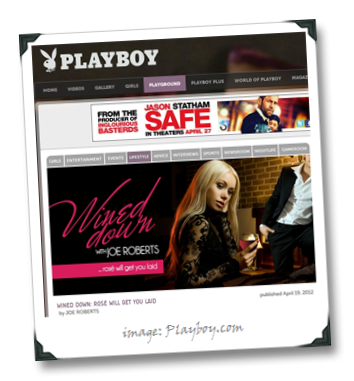 First is that a good rosé is often one of the most versatile, food-friendly wines that can possibly adorn your dinner table. The other is that… well… rosé will probably get you laid. So naturally that became the logical choice as the topic for the first article I submitted for my new column at Playboy.com (but for scheduling reasons became the second in the series to be published). For those offended by the nature of that theme, I apologize; for the other 99.8% of you reading this, I'll accept your thanks for saying what was on your mind already (you're welcome, by the way…).
I loved writing that article (which was penned a couple of months ago, and posted last week at the re-launched, safe-for work – but only just! – Playboy.com). It's fun (sometimes, anyway) to face into a widely-held perception, especially an edgy one, but then sort-of turn it on its ear (in this case, building an argument for rosé that actually speaks to female empowerment and compromise in a relationship), hopefully without it all ending up either too trite or too stodgy. You'll have to let me know if I came close to the intended goal on that one.
I mention in the article one of my personal favorite rosé wines, and one that I've found myself recommending often over the course of the last few years:

2010 Paul Jaboulet Parallele 45 Rose (Cotes du Rhone)
Price: Around $12
Rating: B
My "mini-review" for this wine consisted of the following note: "Bring on the Provençal fare any time. And bring on the the dancing girls, too;" which just about sums up the two major thematic points I was trying to drive home about a good rosé in the Playboy.com article. Red berries, flowers, even a tiny hint of meat dazzle like a well-rehearsed Kenjutsu display, and then tangy red fruits unleash palate kung-fu for a close-in,hand-to-hand bout with your food. If we take fighting as more of a kick-ass dance between equals in the martial arts sense, I mean, and not in the awkward-battle-inside-your-mouth sense. Okay, you're right, that comparison totally doesn't work… I should have stuck to the sensual stuff…
Cheers!