In my experience, most people don't know Jack about Prosecco, despite the fact that we drink metric tons of it (pre-Covid 2019 saw some of the best sales numbers ever for the stuff).
Which, generally, is just fine; most Prosecco isn't worth getting to know deeply. Not that it's bad, mind you (thankfully, Prosecco seems to have mostly avoided the lower-quality-due-to-production-overreach-after-popularity scenario of which the wine business seems so fond); it's just that it's not meant for contemplation. It's fun. It's fruity. It's fresh. Just drink up, preferably with gusto.
There's another side to Prosecco, however, that follows a very different path, and is the kind of wine that merits contemplation: the tippy-top of the Prosecco appellation pyramid, Conegliano Valdobbiadene. And if you're like most people, you know even less than Jack about that particular level of Prosecco.
First, the vitals: Prosecco hails from one of the more gorgeous spots in Italy's north-eastern Veneto region, in a hilly zone of Treviso (between Venice and the Dolomite mountains) covering 15 communes. Vine-growing there has ancient origins, and they don't exactly part with tradition lightly in those parts (the borders of the historic production zone have remained almost unchanged for about nine decades). Sparkling wines there are produced using what they call the "Martinotti Method", where the secondary fermentation that produces those beguiling bubbles takes place in pressurized tanks (autoclaves) rather than individual bottles, thus emphasizing the fruity/floral primary and secondary aromas and flavors of the grape (primarily Glera) and maintaining freshness.
That's usually where Prosecco knowledge stops dead, even for wine geeks. But there's an area in the hills – Conegliano Valdobbiadene – where the vineyards range from 164 to 1640 feet above sea level, and are situated in between the sea and the foothills of the Alps, with ideal sunlight exposure on the south-facing slopes. While rainfall there is substantial, Glera doesn't mind the wet weather so much, thanks primarily to the steepness of the plantings and the area's ample breezes. This is where the primo Prosecco stuff gets made, folks.
As I learned during a recent virtual tasting with the Consorzio di Tutela del Conegliano Valdobbiadene Prosecco Superiore DOCG, Conegliano has clayey soils of alluvial and glacial origin, rich in calcium carbonate, promoting more structure and more intense fruit aromas than you might otherwise expect from Prosecco further down the quality chain. The area of Valdobbiadene is similar, in its ancient moraine, sandstone and clay soils that promote added finesse, and richness.
While not ridiculously expensive, Conegliano Valdobbiadene wines are pricey for Prosecco, but (in my experience) generally worth the extra coin. The price hike isn't just for bragging rights, either – for every hectare of vineyard, roughly 600 hours of work is necessary each year to maintain the plantings on the steep slopes (vs. an average of 150 hours on the lower plains). Much of this is done by small, and family-run farms (there are more than 3000 growers in this tiny region), and all of that work translates into extra expense and, ultimately, bigger price tags.
Fortunately, it also translates to extra… well, everything else…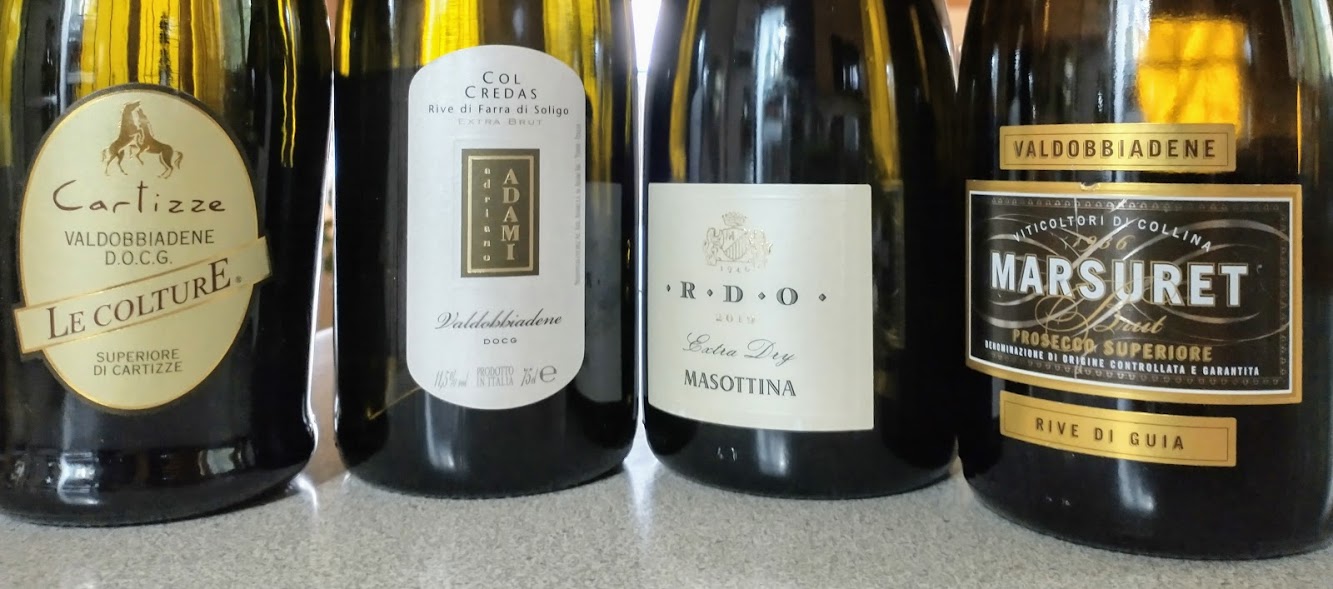 NV Le Colture Prosecco di Valdobbiadene Cartizze ($35)
This cru area of Conegliano Valdobbiadene covers 108 hectares of steep vineyards in San Pietro di  Barbozza, Santo Stefano and Saccol. In this case, the southern-facing, steep (very!) slopes that sit up to 320 meters in elevation on ancient seabed/calcerous soils promote ample ripening and higher malic acid levels. Hence the Dry classification (despite 23 g/l RS). The biggest landowner in the area commands a mere 15 acres. As for the wine: with salinity, minerality, chalk, white melon, pear, and white flowers, this is friendly (of course), but also elegant, with a nice sense of refinement. Green and yellow apple flavors dominate the palate, and the finish is plenty long. It's just reeeaaalllyyyy nice drinking.

2019 Masottina 'Le Rive di Ogliano' Millesimato Extra Dry ($NA)
First, some additional vitals: the term Rive comes from a local dialect, and indicates vineyards situated on particularly steep sites. These wines are produced exclusively as sparkling, using hand-harvested grapes originating from a single municipality. This particular site-specific, single vineyard release comes from vines planted on complex glacial moraine soil, and is a warmer spot at roughly 200m elevation. There are lots of apple fruits and blossoms on the nose, with melon, lemons, and grapefruit. This feels really focused, with a bright, linear acidity that is direct but also well within control. There's also something seductive about it on the palate, like it has its mind fully made up to try to hook up with you. It's fresh, but also generous – 15.4 g/l RS, but you don't really feel it.

2019 Marsuret 'Rive di Guia' Brut Prosecco di Conegliano-Valdobbiadene Superiore ($NA)
This wine hails from a "no-till" area, with cover crops grown between the rows in the terraced vineyards to help combat erosion, on one of the few north-facing vineyards in the area. The soils are sandstone, marl, and clay, supporting vines that average 50 years old. There's only 4g/l RS in this floral, peachy, and tropical bubbly. The nose isn't exuberant; rather, this wine emphasizes a more textural experience. Greener apple and white pear flavors take over in the mouth, with a hint of herbs, and an absolutely lovely mouthfeel with excellent length and sapidity. This is really strutting its stuff and already drinking like a champ right now.

2019 Adriano Adami Col Credas Rive di Farra di Soligo Brut ($25)
Conegliano Valdobbiadene is not a place of straight-line vineyard plantings, and the hills and rocks of this Rive demand and determine the row aspects and plantings (up to 350m in elevation). Lots of floral notes on this one, and white fruits (think pear, and melon). There's almost a creamy note, too, with a hint of chalk. The apple and citrus flavors are true, fresh, and fun, while also containing an undercurrent of seriousness and savory notes. This one is going to make a crap-ton of friends.
Cheers!