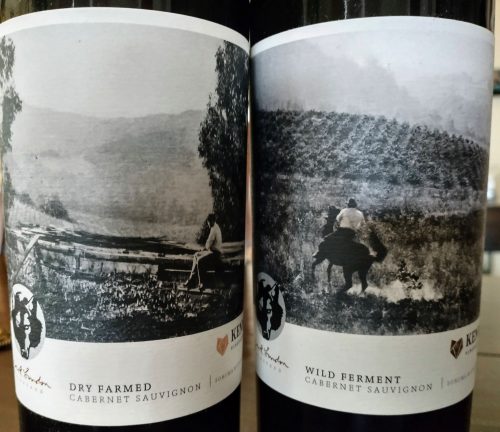 Wine and art congruences (is that actually a noun?) tend to be mostly marketing hype more often than not. So it's especially fun when one turns out to not only be legit, but also LIT. At least, that's the impression I got during one of my more recent Zoom-enabled, Covid-era online media tastings.
This particular legit/lit connection comes via Kenwood Vineyard's link to Californian Jack London – naturalist, socialist, war correspondent (in Korea and Japan), and, of course novelist, having most famously penned Call of the Wild. London settled on Sonoma Mountain, and while there recalled that the Japanese with whom he interacted as a war correspondent had farmed the same land for 500+ years, yet his purchased CA farm was already spent after only about twenty. Ever the indefatigable polymath, London helped develop what we now know as sustainable farming (which his descendants still practice on the property).
While London was a creative mind, he couldn't run things financially – but his sister could (and, luckily, did). He was taking out loans on books he hadn't yet written in order to purchase more land on Sonoma Mountain. In 1973, the family decided to plant wine grapes on the property (primarily Cabernet, Zinfandel, and Chardonnay), bordering what is now a state park. His first buyer backed out. He then called Mike Lee at Kenwood, who bought the grapes and made a handshake deal for exclusive rights to the fruit; they've never sold to anyone else since (though now operate under an official contract).
Kenwood winemaker Zeke Neeley (formerly at Trefethen) walked us through a handful of their Jack London connected wares, all crafted from hand harvested fruit ("you can't get a machine up there," warned Neeley; "you'd roll the tractor!")…

2016 Kenwood Vineyards 'Jack London' Red Blend (Sonoma Mountain, $35)
This red is crafted from Merlot, Zinfandel, and Syrah from Jack London's ranch. Brambly black and red fruits mark the nose, with ample pepper and wood spiciness. It's fun, but also doesn't lack for a sense of serious structure. The palate has a nice spring to its step, and remains vibrant and spicy despite a sense of palpable heat/power and lushness. "There are all these aspect ratios" with the hillsides facing pretty much all directions, noted Neeley, all of which complicates their picking times. "Picking that vineyard is a puzzle. It's a lot of fun, but it also requires a lot of patience." The Wolf head on the label, by the way? An homage to London's most famous stories, and his view of nature's dominance over man, based on a replica of a carving that once adorned London's front gate.

2016 Kenwood Vineyards 'Jack London' Cabernet Sauvignon (Sonoma Mountain, $35)
According to Neeley, due to the growing conditions for Cab at this site, "the vines tend to struggle, and you get smaller berries that are very concentrated and have a lot of tannin" that needs to be mitigated to make it "approachable at a reasonable date." Ripe blackcurrant and black plum fruitiness abounds here, along with nice cedar, underbrush, mint/menthol, and graphite spices. A soft entry leads to a mouthfeel that's BIG, full, and a bit hot. High octane, for sure, but tasty high octane: supple, but not without freshness. A long finish with dried berry, fig, and lots of spice is a nice bonus.

2018 Kenwood Vineyards 'Jack London' Dry Farmed Cabernet Sauvignon (Sonoma Mountain, $55)
This one is harvested from vineyard blocks at the highest elevations of the ranch, where the only source of water comes via rainfall and an underground mountain spring. "Some of the vines were really gnarly" Neeley reminisced from his first visit to the site. In 2017, he asked Kenwood's vineyard manager if they had ever considered dry farming any of the vines at that plot, and he replied that all of the vines they were ten looking at were already dry farmed. So Neeley decided to vinify those grapes separately to see what they could do on their own. "When you're dry farming, you're relinquishing control; I'm a control freak" Neeley confessed.
Blackcurrants, dried berries, and bay leaf, with a good deal of menthol/mint spice, green pepper notes, and a lot of structure and good vibrancy all mark this big-boned beauty. This is a great example of muscular mountain Cab, for those who can handle its power. The label in this series features actual photos of London doing rugged Jack London things, serving as a bit of a primer for what you can expect in the bottles.

2018 Kenwood Vineyards 'Jack London' Wild Ferment Cabernet Sauvignon (Sonoma Mountain, $55)
Regarding the fermentation process for this particular bad boy Cab, Neeley explained that "we don't add any commercial yeast," opting for the reduced predictability but enhanced character that ambient yeast can sometimes provide. "This wine scared the living daylights out of me," he admitted, giving him minor panic attack moments during fermentation. It's a complex beast: graphite, dried herbs, pepper, wild mint, with (very) dark and wild black raspberry, blackcurrant, and plum fruits flavors. It has breadth and richness, and is showing really well at the moment, especially for a 'big-boned' style red. Powerful, hefty, and hedonistic.
Cheers!