Well, folks… sh*t is definitely real right now.
Unusually for this extrovert, I had to celebrate my birthday in self-imposed sequestered fashion, a precaution taken to help practice social distancing and hopefully do a small part in flattening the curve of the current COVID-19 pandemic.
Thankfully, due to the ever-expanding wine sample pool (yes, I'm still getting deliveries during the pandemic), I'm in no danger of running out of wine any time soon. Toilet paper and soy milk, maybe; but wine, no way, not by a long shot.
Sometimes that sample pool is good to me. Occasionally, it's very good to me. And in rare cases, it's exceptionally good to me, as was the case for my (at home!) birthday dinner wine selections, both of which will cost you a pretty penny but neither of which will give you an iota of buyer's remorse (and may even dull the sting of your encroaching cabin fever)…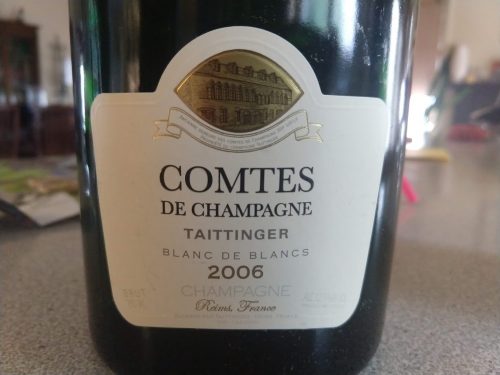 2006 Taittinger Comtes de Champagne Blanc de Blancs Brut (Champagne, $170)
Tattinger's flagship bubbly's name is based on (in their own words) the "flamboyant legend of Thibaud IV le Chansonnier" who was "a king, lord, manager, singer, conqueror and explorer all rolled into one." Presumably, we're meant to take some of Thibaud's accomplishments with a grain of salt regarding their veracity, such as this nugget from his stint in the Crusades:
"From a stop-over in Cyprus, he brought back some vines which had produced wine which he had greatly enjoyed. It is said that he planted these ancestors of our Chardonnay grape on his land in Epernay and Sézanne. From Damascus, he brought back a variety of red rose called Damascena, which was originally grown in the Jordan Valley. The provincial gardeners knew how to graft it onto the Gallica rose, which was common in Europe at the time. All the roses which now grow in Europe come from this crossing of species."
The 2006 vintage has a bit more fact-based information behind it, though it's only slightly less impressive in what it accomplishes. 100% Chardonnay from Côte des Blancs vineyards, this one's made using only first press wine, a small percentage of which is matured for four months in oak barrel. 2006 was a warm vintage, which evidences in the roundness of the mouthfeel and the presence of baked yellow apple fruitiness. Green apple crispness, white flower loveliness, and toasty elegance weave through nearly every little vinous fiber of the 2006's being, and linger on a mightily long finish that's both consistent and true. They just don't get much more stylish than this, folks.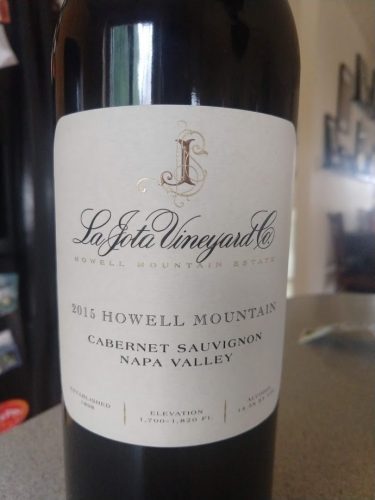 2015 La Jota Vineyard Co. Cabernet Sauvignon (Howell Mountain, $125)
The name of this Jackson Family gem pays tribute to the brand established in the 1800s by Fredrick Hess, a Swiss immigrant; having said that, this 2015 is as thoroughly polished and modern as you'd expect from winemaker Chris Carpenter. A blend of 75% Cab, with Cabernet Franc, Merlot, Malbec, and Petit Verdot making up the remainder, this one evokes more Bordeaux blend than it does varietal wine to me, mostly in how downright complex it is aromatically.
Black fruits of nearly all stripes are present, boisterous, and deep. On the nose, you'll lost count of the number of spice and herbal nuances that are present. Tannins, while ample, aren't brutish, making this one fun to sip now but clearly marking it as a youngster. Aged 22 months in 65% new French oak, not at all shy about it; in fact, after several minutes in the glass this red goes through both beguiling and awkward phases, in a manner that bodes well for the day (presumably a decade from now) when all of that oak and all of that fruit settle into one another like matching puzzle pieces.
Cheers!