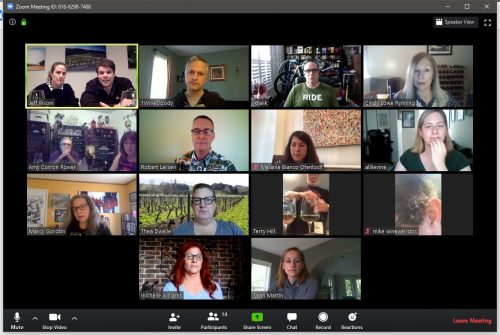 Gotta love the modern wine biz. Despite our penchant for socialization being tampered down by the (entirely reasonable) shelter-in-place orders (courtesy of our current global pandemic), we consistently manage to find a way to not have to always drink alone!
Last week, I was part of a cast of online wine peep characters taking part in a live tasting of new releases from Alma de Cattleya and Lucia wines, who happen to be made by Bibiana González Rave and Jeff Pisoni, respectively, who also happened to join us for the virtual tasting, and who also happen to be married to one another in a modern embodiment of a winemaking power couple scenario. As González Rave told us regarding their relationship, "We both are a little bit perfectionist, so we always have criticisms during the process, especially when we blend. I love to share my blend trials with Jeff, always blind, to hear his opinion. We are lucky to have each other for sure."
Of said power couple, González Rave's backstory is the more compelling, which is not an attempt to throw any shade at Pisoni, because her backstory is the more compelling when compared to almost anyone else's in California wine at the moment. I'll let her tell it as she tweeted it to us:
"I was born and raised in Medellin [Columbia]. Really during the worse times of Drug cartels and Guerrillas…. But I was so fortunate to still be able to dream and have quite a normal life. Since I was 14 years old I started to say that I wanted to make wine. I was fascinated by wine, the meaning of it, the history that comes with [it]. I just remember so much that year, and telling my teachers and parents about my dream. I obviously didn't know anything about wine, neither that wine comes from farming, and that farming will frame my life."
See? Told ya…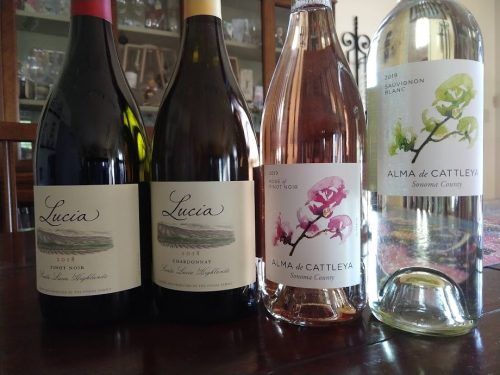 2019 Cattleya 'Alma de Cattleya' Rosé of Pinot Noir (Sonoma County, $20)
This crowd-pleasing pink is built from the ground up to become a rosé; as González Rave told us: "For this wine, I really look for vineyards that allow for early picking. Mainly areas where the producers are used to farm for sparkling wines." That, along with whole cluster pressing, helps explain why a wine this big and ripe (by rosé standards) also feels so fruity and balanced. Roses, strawberries, citrus pith, and savory cherries – everything you want, really – along with ample vivacity to add just enough crispness.

2019 Cattleya 'Alma de Cattleya' Sauvignon Blanc (Sonoma County, $22)
While decidedly CA in style, balance is also the name of the game with this white. "The secret is on how we treat the fruit at the winery," González Rave explained. "Our processes are focused on high-end winemaking, so we apply the same care to the fruit harvested for Alma. I spend quite a bit of my time at the vineyards, helping throughout the year to improve farming practices. Early pick but not really based on numbers, more on aromatics." And aromatic, it is – think grapefruit, lemon zest, grass, and white flowers. Despite the ripeness and creaminess (thanks to lees aging in neutral French oak), there's a fine line of acidity to act as a guide-rail for when this white dances down your tongue.

2018 Pisoni Family Vineyards 'Lucia' Chardnnay (Santa Lucia Highlands, $45)
Hubby Jeff Pisoni is no winemaking slouch, either, crafting releases across a range of labels (of which Lucia, made from vineyards farmed by the Pisoni family, is one) at his family's business. Pisoni seemed to have high hopes for this creamy, toasty, and even nutty Chard: "We keep the winemaking very reductive, minimal oxygen. I see our chardonnays going 10 years or more. But I'm a bit of a collector!" A barrel selection of wine sourced from the Pisoni and Soberanes vineyards, this is compelling stuff: pear, lemon curd, apples, blossoms, minerals, and a great interplay between freshness/brightness and almost decadent, juicy fruitiness.

2018 Pisoni Family Vineyards 'Lucia' Pinot Noir (Santa Lucia Highlands, $45)
Back to Pisoni: "I always feel this is under the radar, since it's appellation designated, but all estate fruit, and 100% free run, too (no press wine)." Whatever it is, it's juicy AF: plums, black cherries, red berry fruits to spare, along with ample spiciness, herbal sage and black tea notes, hints of mint and cedar… there's a lot going down here, folks. It has edginess, too, in bursts of energetic acidity. I loved it. Pisoni seemed almost as on edge as the wine when he told us "I felt the 2018s were very tight at first, maybe 6 to 10 years for this one." He's got nothing to fear, though; yeah, it will age well, but it's delicious drinking even now.
Cheers!