Italy's Calabria has been a bit of a victim of its own success.
The ancient Greeks dubbed Enotria Tellus—"Land of Wine." Sporting a diverse terroir that features plenty of ocean influence and even more sunshine, wine grapes have thrived there for eons. Which led to the modern Calabrian wine market becoming co-op heavy, focused on maximizing production above all else. Queue the subsequent reputation crash during the wine quality revolution of the last few decades.
The subject of one of my more recent virtual sample tastings—Librandi—has been a bit of an outlier in Calabrian terms, helping to usher in a new quality-focused renaissance for the region by focusing on lower production of international grape varieties. Their success, and that of a handful of other such producers in the region, somewhat ironically led to more purchases of estate vineyards, and a revitalization and re-planting of native Calabrian varieties.
What comes around, goes around. And in this case, it literally goes around: Librandi has what they call a "varietal garden" of 200 autochthonous grape varieties planted at their Rosaneti estate planted in (what I imagine must be a rather difficult to farm) spiral.
Third generation vintner Paolo Librandi led our tasting, first explaining the history of his family's operation. Librandi started bottling their own wine in the 1950s, and Paolo's grandfather had six hectares (one for each of his kids) that eventually was grown by his uncle Antonio into over 430 hectares. Paolo's father was a math teacher, who circled back to the family business in the 1970s. They call Cirò home, where about eighty percent of all Calabrian wines are made. Winemaking there dates back at least 2,500 years, but is still finding its footing in the modern wine market ("Surely it's our fault," that high-end Calabrian wine isn't yet more well-known globally, Paolo noted). Maybe we can help rectify that just a teeny tiny bit today…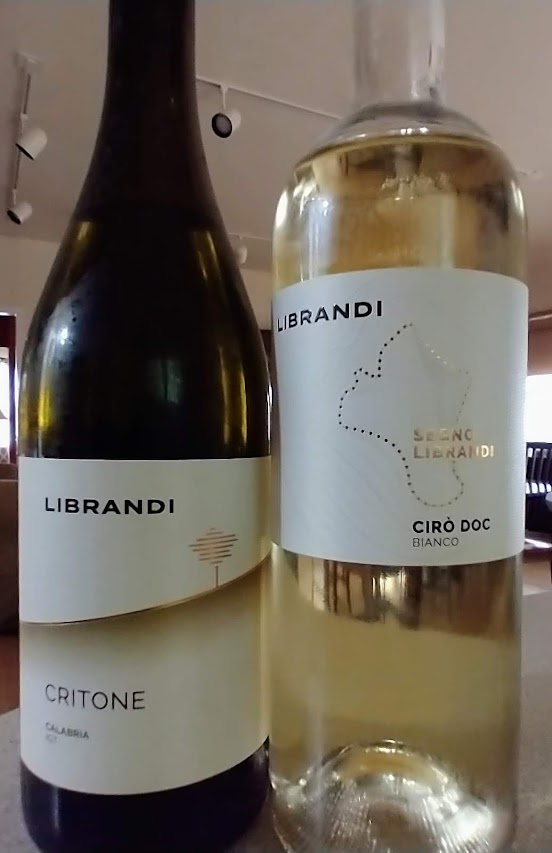 2019 Librandi Segno 'Librandi' Cirò Rosso, $15
Paolo told us that the aim for this 100% Gaglioppo red is for "immediate pleasure and drinkability." It doesn't see any wood, instead going for a fruit-forward display of brambly red berry action, violet notes, and dried herb aromas. This is very fresh for a Calabrian red, offering poise and delicacy as well as bright cherry flavor and hints of game. Very friendly stuff.

2020 Librandi 'Segne Librandi' Cirò Bianco, $15
Speaking of friendly, there's the white counterpart to that Cirò Rosso, made from Greco Bianco (a grape found pretty much only in Calabria). "It's a peculiar grape," according to Paolo. "It needs extra stressful conditions, it's a variety that needs to suffer a little bit to get really ripe." It's hardship is our gain, in the form of tasty citrus notes with white flower aromas, Mediterranean herb notes, and zesty mouthfeel that's fruity, fine, and fun.  

2019 Librandi 'Duca Sanfelice' Cirò Rosso Riserva, $20
Another Galioppo red, this time aged in both steel and concrete vats (still no oak), into a form that Librandi described as "our idea of our benchmark and the philosophy behind it." The vines are trained in traditional "alberello" (head-trained) style, from the Greek system that promotes radiant heat reflecting back onto the grapes from the ground. While the nose is similar to its little Rosso brother, there's far more concentration, depth, and minerality here. The tannin structure is lovely, with an elegant streak framed by freshness and a hint of astringency, all supporting a brambly fruit palate that's refined, and replete with sour cherry, leather, tobacco, and dried violets.

2019 Librandi 'Gravello' Val di Neto Rosso, $30
First produced in 1988, "this was always our flagship" noted Paolo, a red crafted to appeal to international tastes, and a wine that helped Librandi (and Calabria) gain attention on the global wine stage. A blend of 60% Galioppo and 40% Cabernet Sauvignon, it's sourced from a calcareous, clayey vineyard that is roughly bifurcated by the plantings of the two varieties. 12 months aging in 50% new French oak make this Librandi's more showy red. It's juicy, with dried flower petal, herb, red berry, and blackcurrant aromas and flavors swirling on a big, meaty, and structured palate. There's more power than poise here, but there's also no lack of refinement. Bring steak, and you'll be happy.

2021 Librandi 'Critone' Val di Neto Bianco, $19
Named for Socrates' pupil, this peachy, flinty Chardonnay (with a splash of Sauvignon Blanc) is more overt than it is philosophical. Originally crated by Paolo's father for the local market (they were among the first to plant Chardonnay in the area), it became "by far the best seller in all of our markets" according to Librandi. "This is the wine that pays the bills." Plenty of apricot, tropical fruits, flowers, and herbs are happening here for you Chard lovers, with saline and spicy hints on the back end of the palate keeping things interesting.
Cheers!