When I joined a media tasting (back in January… f*ck you, we just had a baby!!!) to go through samples of recent releases from Sardinia's Antonella Corda, we were missing one important attendee: Antonella Corda.
Corda was unable to join the tasting of her namesake's wares because she was about to give birth, making her motto "di madre in vigna" particularly apt. And so, as they say, the proceedings were pregnant with more than just possibilities.
Antonella herself has never been a stranger to the wine world, as she is related to one of the most important wine families on the island, the Argiolas. Located in Serdiana (about 20 kilometres north of Cagliari in the southern part of Sardinia), Antonella Corda (the estate, not the lady) was founded in 2010. Producing about 60,000 bottles/year (along with some olive oil) from their sand, clay, and loam soils, their vines are influenced by cooler northern winds (which helps mitigate the infamous Sardinian Summer heat in the vineyards), restraining maturation and retaining acids.
They farm two main vineyards. First, there's Mitza Manna, the favorite vineyard of Antonella's grandfather (Antonio Argiolas), sitting at about 200 meters in elevation, and growing Vermentino and Nuragus (which benefit from the calcium deposits of the soils there). Next, there's Mitza S'ollastu, located on the border of the town of Ussana, where they primarily grow Vermentino and Cannonau. Soils are mainly riverbed influenced, with pebbles, sand, loam and clay (making it a great spot for developing structure and balance in the grapes, according to them).
As longtime 1WD readers are already aware, I am a total sucker for Vementino, so you probably already know where this one is going…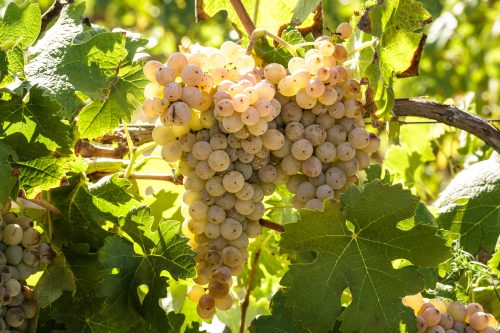 2020 Antonella Corda Vermentino di Sardegna, $20
I'm like a broken record when it comes to Sardinia's Vermentino (well, the well-executed examples, anyway). White flowers, minerals/wet stone, citrus, light herbal notes, yellow apple, white peaches, and freshness… It makes me want to buy several bottles, and I almost never actually buy wine with my own money any more. Notes of oranges, citrus zest, and mild hints of earth add complexity to this hand-harvested little delight. This is Elegant without sacrificing deliciousness, juiciness, or fruitiness.

2020 Antonella Corda Nuragus di Cagliari, $19
This variety was typically used in the south of the island as a low-brow house wine; here it gets the premium treatment. One hectare of plantings produced just 5,000 bottles of this one. It's quite floral, and heady, with a saline note and also some savory elements. And Fresh!, with stone fruits, pear, and lime zest. Consider this one lighter/medium bodied and just friggin' delicious. It's the kind of white that evokes the seaside and makes you want to drink all day. That interesting pithy note on the (very long) finish will wake you up from your nap.

2018 Antonella Corda 'Ziru' Isola dei Nuraghi, $NA
Ziru is a skin-fermented Vermentino, aged in amphora for 24 months. Just 2,500 bottles were made. Unfiltered because why not. The name comes from the traditional term for amphora used to store wine and oils in Sardinia. Almost neon lemon in color, it offers a savory, mineral, salty nose, with dried white fig, lemon peel, peach, apricot, and orange rind. Matured notes of dried tropical fruits emerge on the palate, with roundness but also tons of vibrancy. Almost smokey, with lemon drop hints and great structural elements. Super long. So, yeah, the love affair with this grape variety continues unabated.

2019 Antonella Corda Cannonau di Sardegna, $30
10% Syrah, 90% Grenache, 15% abv, 100% sexy. It's a lovely light red in color, but don't let that fool you. Little hints of game and leather show up, but this red is dominated by fresh, ripe red berries, rose petals, red cherries, white pepper, and mint. Equal parts smooth and fresh, with good length, it holds the alcohol level well, though you do feel it on the long finish. Sultry stuff that goes down dangerously easy. Hangover warning!
Cheers!