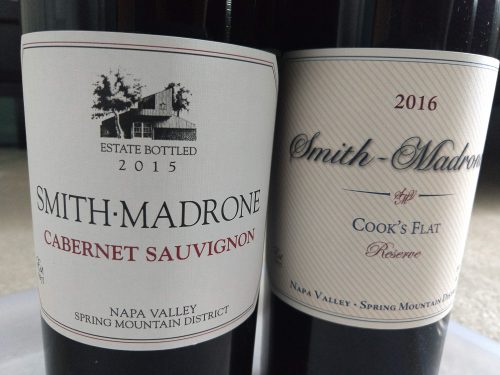 The latest in the steady stream of sipping during SIP virtual tastings brings up back to longtime friend of 1WD Stu Smith, one of the masterminds behind Napa Valley's well-regarded Smith-Madrone.
If you've spent any appreciable time perusing this little website, then you know that Smith is smart, verbose, and opinionated – all of which are a wine writer's wet dream (ok, that came out totally wrong, but you get the idea), and all of which were on typically intriguing display when I (and a handful of fellow wine-media-critic-types) recently tasted through some of the recent Smith-Madrone releases with Stu via Zoom meeting.
Speaking of intriguing, that's a fitting descriptor for Smith's wines in general…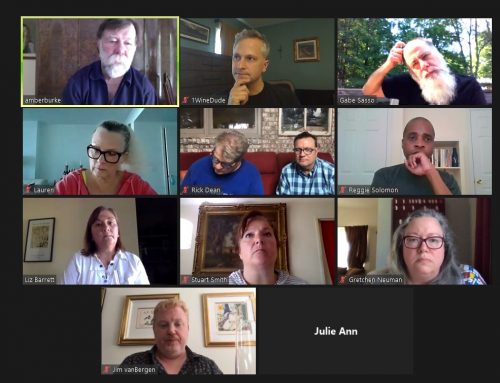 2016 Smith-Madrone Estate Chardonnay (Napa Valley, $40)
"We try, if we can, to get the vintage into the wine" Smith told us, "sophistication, if you will." Smith famously despises low-acid Chardonnay, calling it "dead-eyed." "You gotta have the courage of your convictions in this industry," he said in defense of their Chardonnay style, which he noted as having "the acid knitted into it."
Juicy and full of ripe peach action, there's lime zest, lemon curd, brioche, and orange blossom all over this white, which sees lees stirring and 80% new French oak, though you'd be hard pressed to tell the latter. Balanced, elegant, toasty, textural, and – just as Smith likes it – zesty.

2015 Smith-Madrone Estate Cabernet Sauvignon (Napa Valley, $52)
"We don't have a recipe" Smith told us when it comes to blending this Cab, but the guiding principle is to evoke what he calls "the Napa valley of yesteryear." He calls this release a "really clean example" of Napa Cabernet, and it sports impressive purity in support of that. Textural and tightly wound, with a ton of brambly herbal/spice notes (e.g., mint, licorice, graphite, and black olives). It's plummy, focused, and deep on the palate, with delicious black fruits and plenty of heft while also having plenty of poise.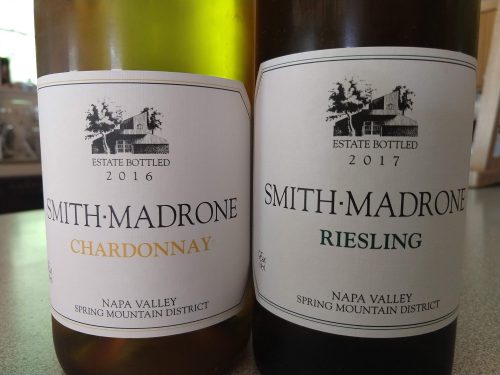 2016 Smith-Madrone Cook's Flat Reserve (Spring Mountain District, $250)
Cook's Flat never really disappoints, and this latest release (with only just over 1500 bottles produced) keeps right in line with tradition. Smith-Madrone's top-of-the-line since 2007, "we set out to make the best wine that we could" and "put the cross-hairs on the First Growths [of Bordeaux]" Smith told us. This is meant to evoke a great Margaux, and it comes as damned close as any Napa Cab I've tried recently. Long, savory, supple, even sexy, there are no rough edges on this nuanced, fabulous mix of Cabernet Sauvignon and Cabernet Franc. Explosive despite its youth and tightness, this is the more focused, spicier, smokier, darker, and slightly deeper big brother to the Estate Cab. Nearly a week after the tasting, it was still drinking incredibly well from the bottle, suggesting an impressive aging curve ahead.

2016 Smith-Madrone Estate Riesling (Napa Valley, $34)
"I feel like Sisyphus rolling the goddamned rock up the hill" Smith exclaimed when describing his efforts to sell Riesling; for about fifteen years, Smith-Madrone were one of the few wineries in the U.S. with a varietally labeled Riesling on the market. "No white wine ages like Riesling" Smith mused, and that's happily true in this case. Four years on, and this wine has just gotten things rolling, with petrol and baked yellow apple notes mingling with the white flowers, limes, citrus pith, and ginger spices. It's that rarest of Napa creatures: a white that manages to weave fruitiness with austerity.
Cheers!