Like this author, Chalk Hill Estate Vineyards was born in 1972, predating the official indoctrination of the Chalk Hill AVA. And thus forevermore Chalk Hill wines will slightly confuse would-be wine buyers who, upon picking up a bottle, wonder why the name Chalk Hill is listed twice on the label. You know, the way that MTV videos (back when they actually showed music videos) would put the name of the song, album, and artist in the bottom corner, which was always funny when they were all the same… like "Big Country" from the album "Big Country" by the band "Big Country"… Sh*t, I am feeling really old right now.
Anyway…
During a recent Zoom tasting with Chalk Hill's Winemaker Michael Beaulac and Vineyard Manager Brian Malone, I was able to temporarily forget about how old I feel and take a deep dive into their bread-and-butter variety: Chardonnay. Bread-and-butter is actually a pretty good catch phrase for their white wines, which hailing from the relatively warm Chalk Hill AVA tend to be ripe and powerfully built (though also balanced, thanks to the influence of rolling fog even despite its distance from the Petaluma Gap). And Chardonnay is absolutely their bread-and-butter in the figurative sense: about 120 acres (or just under half) of their 295 acres of plantings are devoted to Chardonnay, with 20+ clones planted (which demonstrates just how important the variety is to their production, history, and identity).
It's not all bread-and-butter, of course – there's quite a bit more to the big, bold, and beautiful Chardonnays that Chalk Hill Estate, from the Chalk Hill AVA, can muster from the vines grown on (you knew this was coming) Chalk Hill…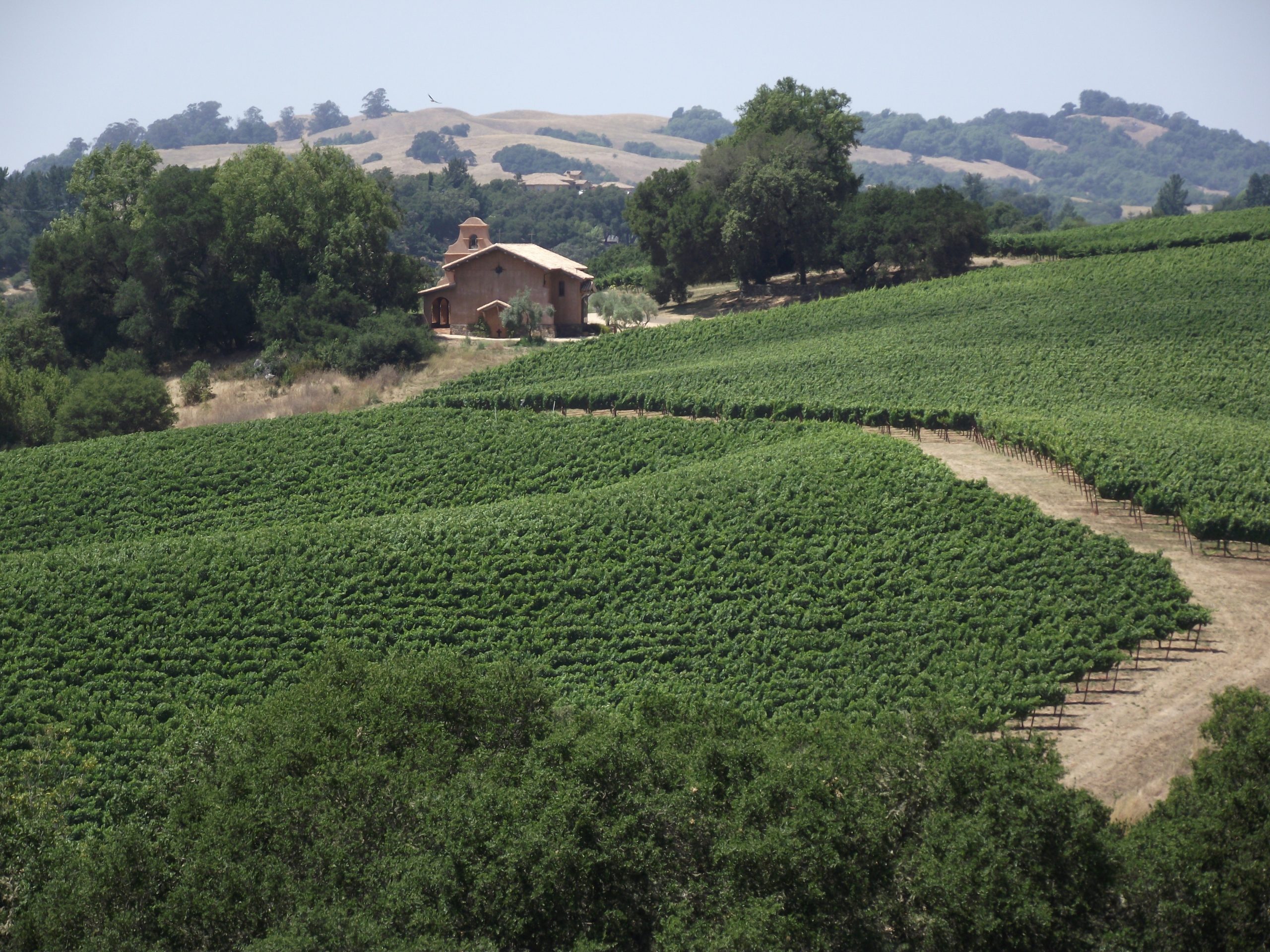 2018 Chalk Hill Estate Chardonnay (Chalk Hill, $39)
This white is the bread-and-butter release from Chalk Hill's bread-and-butter variety, meant to showcase how Chardonnay performs across the entire estate. As Malone described it, "There's a wide variety of slopes, aspects, soil types… there's like 13 different soil series on the vineyard. Chalk Hill is very unique, because it lies within this region that's warmer than the interior, yet cooler than Alexander Valley. The fog rolls right up to our ranch, then it actually will retract right out to the coast, so we get a lot of solar exposure." Some work is required, therefore, to ensure that the Chardonnay grapes don't bake in all of that sunlight and heat. "The main thing with Chardonnay," Malone added "is keeping the integrity of the fruit… We actually will manicure the vines in a way to allow sunlight to penetrate the canopy, it's more of a dappled light."
This estate blend sees 100% native yeast, 100% malolactic, and 100% French oak (44% new) for 11 months. Winemaker Beaulac was all smiles when reminiscing about the vintage. "2018 was a fantastic year, because it wasn't 2017 again. Nice, even growing season. It was one of the most 'carefree' harvests I recall in a while. These three wines are all made essentially in the same way. It has to do with clonal selection, it has to do with where the grapes are grown. They turn out differently because of where they're grown."
Peaches, cream, ripe apricot and pear, white flower, citrus, brioche, vanilla… this Chardonnay is complex and immediately shows that it means business. To be fair with all of the bread and butter talk, this is more creamy and rich, rather than buttery. Layered in its opulent, sensual fruit are sweet orange tinges, with a metric ton of textural complexity. Powerful, full-bodied, toasty, and incredibly long with fresh baked bread (there it is!), grilled lemon peel and peaches, and smoke accents on the finish.

2018 Chalk Hill Felta Chardonnay (Chalk Hill, $75)
Part of their soil-focused releases that are mainly available via their tasting room and wine club, this white sees 14 months in 67% new French oak. Just 310 cases were made, bottled unfined and unfiltered. Moore described the well-drained, volcanic soils that house this Chardonnay's source vines as "an ideal location within an ideal location. The Felta series is just about as ideal as you can get. It's cool to be a part of." Beaulac added "This wine comes down to three different blocks. Almost half of the wine is the Chalk Hill clone. The coolest thing about this wine is the minerality and the mouthfeel that you get. It still has that creaminess, it still has that weight, but there's this minerality that comes through in the wine."
While this white is indeed very big, it is also quite elegantly restrained with a noise full of grilled lemon peel, ripe pear and white peaches, floral action, and bits of tangerine. While rich, it shows more vibrancy, brightness, minerality, and lemony acidity, and a piquant texture at the edges of the palate. Maybe a tad hot, but the liveliness really entices. The finish is very toasty, with grilled fruits and dried herbs on a long send-off.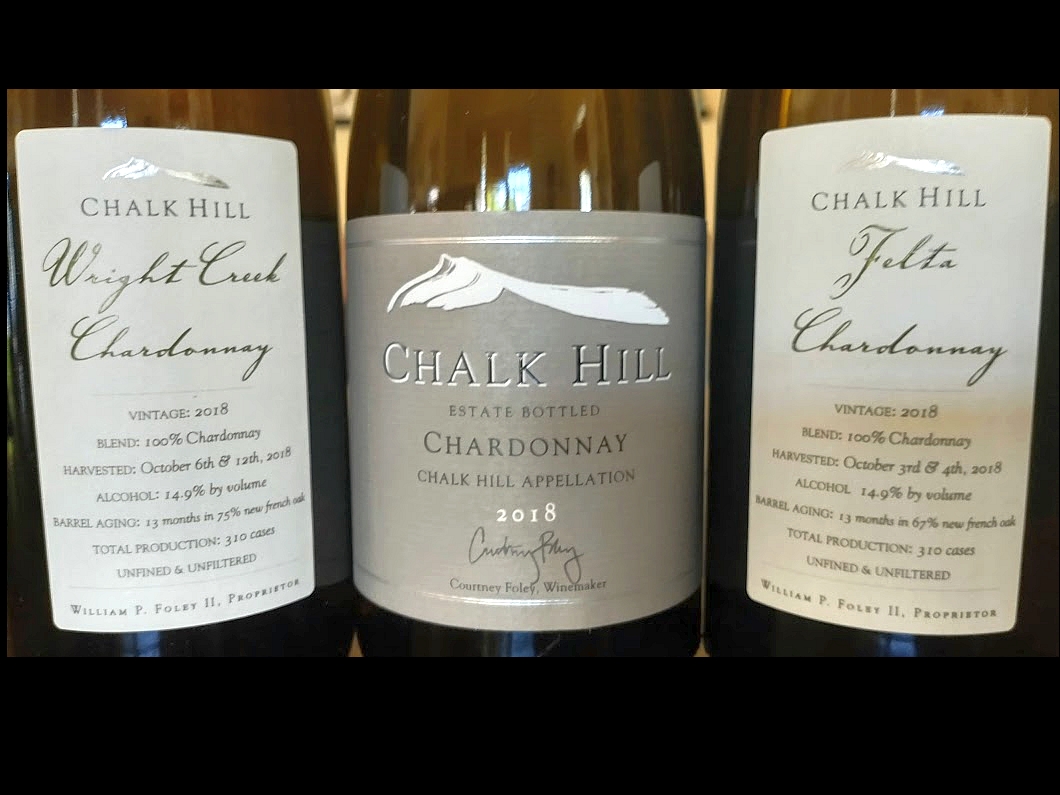 2018 Chalk Hill Wright Creek Chardonnay (Chalk Hill, $75)
Another soil-focused release, this one gets 13 months in 75% new French oak. Again, the quantities are quite limited (just 310 cases, also bottled unfined/unfiltered). This Chardonnay's vines hail from Arbuckle soils. As Malone explained, "It's usually formed from alluvial deposits that come from rolling hillsides, usually at lower elevation. It's normally a sandy loam."
"These two blocks are separated by 16 feet," Beaulac added, "with a dirt road between them, but they create completely different wines. To me, that's fascinating. There's a textural feel to this wine. It's about 'weight' without it being 'heavy'."
This is a Chardonnay that immediately hits you with about ten different varieties of peaches in the nose. Hints of wild herbs, white tea, cinnamon, vanilla, wood spice, orange blossom, pears, and even lime soda show up here. On the palate, it seems to sway slightly between power and heat, with a generous roundness and flavors of poached peach and apricot fruit, and a toasty/creamy texture. It's a fine balancing act that's fascinating to experience as it plays out across the palate and the finish, which dwarfs the other two wines in this tasting with its impressive length (despite both of them having pretty long finishes!).
Cheers!