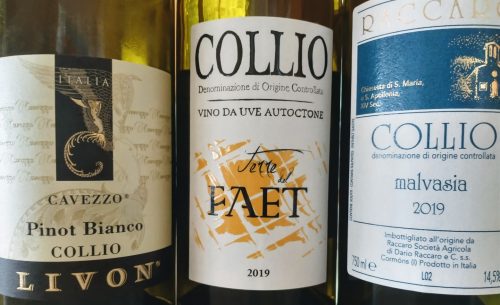 When you're talking about Italy's Collio region, you're talking about hills. And I mean, meta-levels of hills.
That point was emphasized more than a few (dozen) times during my recent Zoom+samples tasting organized by the Consorzio Tutela Vini Collio, during which wine writer Matteo Bellotto gave us the lay of the land (more or less literally) with respect to this standout hilltop white wine region between the Julian Alps and the Adriatic Sea. Here are the key takeaways:
Collio sits on the 45th Parallel (so, right in line with Bordeaux), and is the 3rd DOC in Italy (founded in 1968)
Collio means hillside – and "everything that you can see [there] is made on the hillside"
Out of the region's total area of 7000 hectares, only 1500 are planted to vine (because… hillsides!)
Collio is "an area close to different borders, with different identities, different languages being spoken, and different stereotypes [from the rest of Italy]"
While Italy is justifiably crazy about its indigenous grapes, international varieties have been planted here for 150+ years; so there is extensive experience with those in the region
By the numbers, Collio supports 350 wineries, 166 growing partners, and 130 bottlers making 6.5 million bottles per year from 17 permitted varieties (plus Collio Bianco and Collio Rosso); it's "like an orchestra; we have to think about this territory as a symphony"
87% of the vineyard holdings measure less than 2.5 hectares each (so, lots of small winegrowers)
85.6% of the production is white wines (14.4% is red), due primarily to the cooler, wetter climate (moderated by drying winds from the south, and – you guessed it – hillside plantings that promote deep vine roots systems).
Collio is famous in Italy for its "Ponca" sandstone soils, comprised from ancient seabed material that's over 50 million years old. There are Marl and sandstone sedimentary layers, fragile on top, that promote excellent drainage, so the roots can penetrate these soils quite deeply in search of water.
Regarding the 2019 vintage that's in the market now, producer Denis Sturm described it as a relatively dry and warm year. The critical period of August through October "was perfect, perfect," with little pressure on picking times (thus promoting more ripeness). "No stress," Sturm emphasized, "we could plan the harvest in a perfect way. It's a perfect vintage to understand the different areas and how indigenous and international varieties [perform] in our terroir."
So let's take a look (taste?) at some of those 2019s (and their predecessor vintage in a few cases, for good measure)…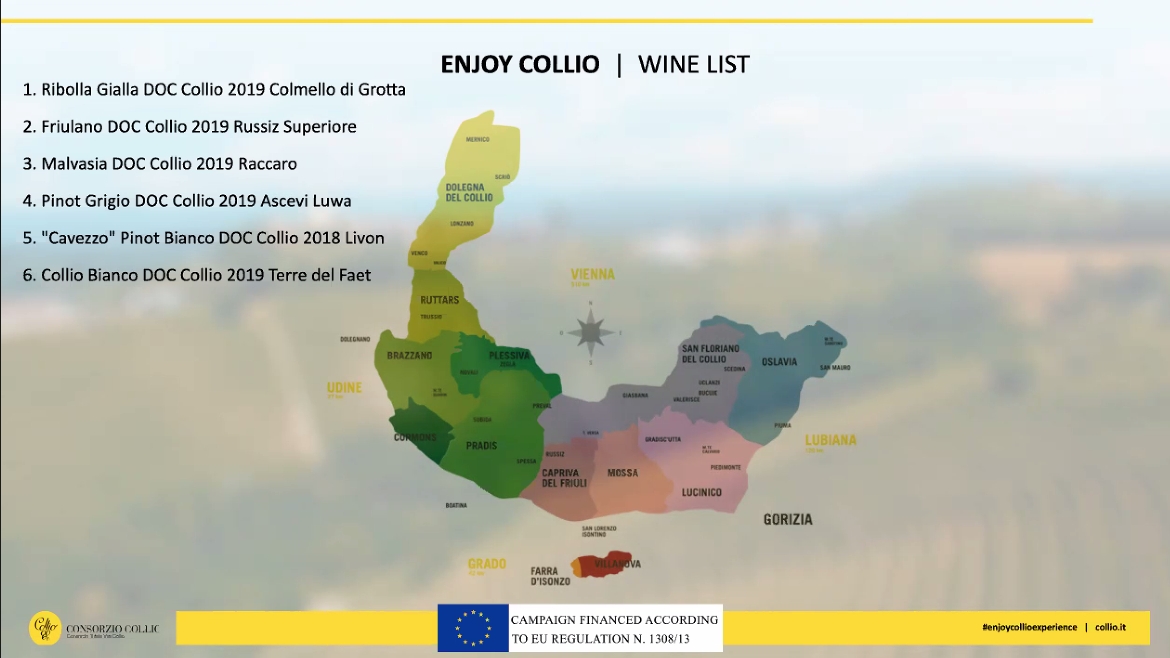 Our tasting was led by sommelier Mitja Sirk, who I'll be quoting liberally through the rest of these reviews, because he absolutely knew his hillside Collio stuff!

Colmello di Grotta Ribolla Gialla 2018 ($NA)
Ribolla "Has a very thick skin," Sirk noted, adding "it's the white wine that's the easiest to drink." Producer Matteo Bellotto was a bit more cautious about Ribolla's success warning that "Ribolla needs the highest hills to be grown [properly]." This example hails from the southern border of the appellation, so the vines are a bit lower in elevation. Crisp apple and citrus notes, blossom, and great purity in this one, with lemon, green apple, and white pear flavors in abundance. The intensity of acidity is notable, but there's also suppleness despite all of the focus. Very long, with an almost herbal note with almond skin tinges. Gorgeous stuff.

Marco Felluga Russiz Superiore Friulano 2019 ($NA)
A great example of what pure ponca soils can deliver. Tropical notes, with grapefruit, starfruit, some "exotic" (to me, anyway) elements, and white flowers on the nose, followed by dried herbal notes and hint of smoke, too. This is mineral all the way. "One of its best terroirs" noted Sirk (from a southern section of the region, the "grand cru of Friulano"). The peach and mineral action is fresher than a daisy, and it's got an astringent element (in a good way), along with finesse and depth to its lemon flavors. Excellent, and a lovely food wine.

Ascevi Luwa "Grappoli" Pinot Grigio Collio 2019 ($NA)
This high hillside site is in the cooler area near the mountains, and is harvested manually with the best clusters reserved for this bottling. On the proliferation of Pinot Grigio in Collio, Bellotto  had another musical comparison for us: ""It's like pop music – you can have Shakira, or you can have The Beatles… and if you're on the hillsides, you have The Beatles!" This white is absolutely banging with white flowers, lime, white melon, and citrus pulp aromas. It has an almost sweet edge to the citrus and tropical fruit flavors, tempered by hints of astringency and minerality. The finish has long toasty notes, with grilled lemon. This is a fresh, textural elevation above the norm for PG that will still be instantly accessible to most drinkers.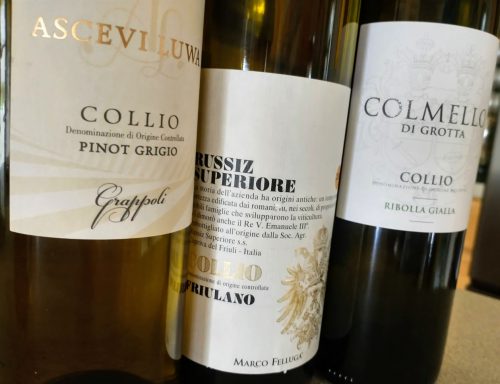 Raccaro Malvasia Collio 2019 ($30)
From a warmer part of Collio, this white is salty, savory, and mineral, with a fefined and reserved nose full of lemon pith and wild herbs. Fressssssh! Prepare for a lemony zing, with plenty of pink grapefruit, citrus peel/pith, and almost electric acidity. Don't let the acidity fool you, though, this one has roundness and richness (and 14.5% abv). A bit of an acquired taste, especially in its youth.

Livon "Cavezzo" Pinot Bianco Collio 2018 ($NA)
From a south-facing vineyard in front of a large hill, surrounded by woodland. "This particular vineyard is not a very old vineyard," noted Sirk, "but is already talking about its place." Heady, perfumed, and sporting lemon blossom, honey, honeydew, and lemon drop candy notes. Fresh in the mouth, with sweet lemon and citrus fruit flavors, and a juicy texture like fresh lemons that are also slightly sweet. Some wood notes are there, but they work wonderfully. It almost feels Alsatian. I loved it.

Terre del Faet Collio Bianco 2019 ($NA)
Speaking of love… I love geeky items like this. From vines aged up to 100 years (and averaging about 60) this is a field blend of mostly Friulano, with Malvasia and a bit of Ribolla Gialla. Herbs, dried flowers, perfume, lemon peel, grilled citrus… none too overt, and all a bit reserved (in a pleasant way) on the nose. Wow – the palate is all kinds of fresh and textural; pithy, structured, vibrant, and toasty. The citrus flavors are all fresh off the grill, with salinity and savory/herbal edges. Authentic in its presentation, and long in its tasty, toasty finish, this is unique and difficult to forget.
Cheers!