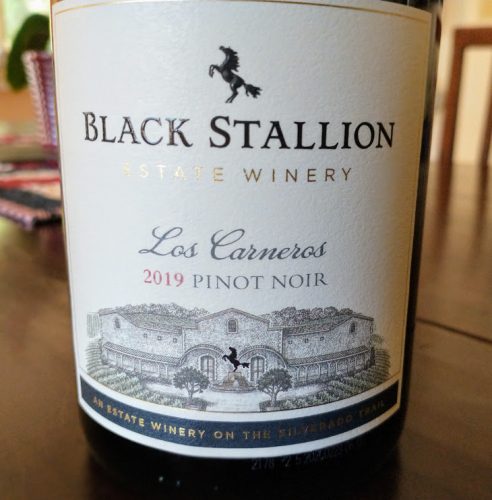 One thing that the Covid pandemic has done to us wine media types is essentially shut down the whole "visit a producer in person and break bread over wine and dinner" thing that the wine business loves to do. That's especially true of the Napa Valley wine business. And they must be jonesin' for media connection rigtht now, if the flurry of Zoom sample tasting invites that I receive is any indication.
In that vein, I admired the gumption and ingenuity of Napa's Black Stallion, who have been going all-out in organizing tastings, even to the point of doing public ones that involve their customers. A case in point of that ingenuity: their invite to me to have them send me dinner from a local restaurant, along with samples of their current releases, to have a virtual sort of dinner meeting with head winemaker Ralf Holdenried.
Now, I've got currently a pregnant girlfriend at 1WD HQ, and while she has to taste-and-spit rather than drink these days, there was NO WAY I was going to turn down the opportunity to get her dinner from one of our favorite local bistro joints. And so I agreed (rather quickly, I might add) to the virtual meetup/eatup.
Black Stallion's Holdenried is an interesting case study of a winemaker journey, even in a region full of such case studies. Raised in Germany's Rheinhessen winegrowing region, Holdenried calls himself "the exchange student that never went back. I grew up pruning Sylvaner and Müller-Thurgau" in his family vineyards in Germany, before studying winemaking and viticulture at the University of Geisenheim. A stint at UC Davis to study fermentation science, viticulture, and enology introduced him to California, and that was effectively that. He developed his Cali wine chops at William Hill Estate and Louis M. Martini's small-lot program before joining Black Stallion in 2014. Stylistically, the Germany-to-Napa thing might seem like a whiplash-inducing transition, but Holdenried doesn't really see it that way. In terms of a house style, his German roots influence how he approaches Black Stallion's goal of "making modern wines with a long – but not large – finish."
While the Black Stallion winery itself (owned by the Delicato family, who Holdenried describes as "very involved") has only been active for just over a decade, its history dates back much further, to when the spot just south of Stag's Leap used to house one of California's largest equestrian centers, and an indoor riding area (that is now the spot where their Cabernet vines are planted). My conclusion after our tasting – it was a good decision to move from horses to vino…
Black Stallion Limited Release Albariño 2019 (Napa Valley, $40)
A unique choice for a Napa Valley planting decision, but as Holdenried mentioned, "it's a very unique vineyard," planted on a ridge overlooking the bay. Lemons, minerals, dried herbs, dried blossom petals – it's hard not to like that nose. Lithe, bright, and lemony in the mouth, there are nice round edges to the palate that give this breadth. No barrels or malolactic action required – "just straightforward," Holdenried mentioned, "eight rows of one block, 300 cases later, we're done." It gets right to the point, but it does it elegantly.
Black Stallion Heritage Pinot Noir 2019 (Los Carneros, $28)
Black Stallion sources this Pinot from growers on both the Napa and Sonoma sides of Los Carneros. Holdenried describes this red as a response to becoming disenfranchised by the bigger styles of California Pinot he'd encountered. And while he described Pinot as "very tricky, very finicky," this crowd-pleasing red seems worth the effort. And it offers up more than the typical overblown Napa Pinot, for sure – smoked meat, mint, tea leaf, cedar, leather, and black cherry, all atop a spicy, soft, but balanced palate with great length.
Black Stallion Cabernet Sauvignon 2018 (Napa Valley, $30)
This one is Black Stallion's bread-and-butter red, and it offers a lot of bang for the buck as far as Napa Cabs go in this price-range. Green herbs, oak, vanilla, spices, lots of black fruits – it's the whole Napa picture, in a big, well-crafted, nicely structured form. Kudos to Holdenried and the team for making this so affordable, drinkable, and accessible.
Black Stallion Gaspare Vineyard Cabernet Sauvignon 2018 (Oak Knoll District, $75)
Pound-for-pound, this single-vineyard red has always been my favorite of the Black Stallion lineup. Huge amounts of graphite, with ripe/concentrated and delicious black fruits (plum, blackcurrant), tar, leather, dark chocolate, dried lavender, dried herbs, jammy blue fruits, cloves – and that's pretty much every vintage. This 2018 happens to be VERY long, with nice energy and tension throughout. It starts firm and big, but opens after several minutes into something more vibrant and energetic in its undertones. Powerful, and (very) grippy, this is a deliciously full-bore Cab.
Black Stallion Transcendent Cabernet Sauvignon 2016 (Napa Valley, $150)
Holdenried described this as "our showcase, our flagship," which comes with the requisite bicep-worthy workout-style heavy bottle. From a style perspective, he said that this icon release is an effort that's "trying to snap out of the `80s" penchant for overblown Napa reds. Sourced primarily from hillside fruit in Atlas Peak and Diamond Mountain, however Holdenried told me "I don't commit to making the blend from any one" of the specific source vineyards. "We just try to select the 20 best barrels from 5 different vineyards." "While the vineyards may change year to year, the goal that I have in mind for this wine is really the same: to try to combine concentration and elegance in the bottle. It's a stylistic question, really trying to find the sweet spot" between mountain fruit structure and Napa Valley opulence. "I think we're in for a treat, if we're patient enough."
The operative word here is Deeeeeeeeep! And those black fruits (plums, cherries, currants) are canyon-level deep. Dried violets, graphite, cocoa, sage, smoke, fine leather, cocoa, tar; there's a lot going on here just in the aromatics alone. The pPalate entry is quite silky, almost velvety; then, dense/dark fruit flavors, grip, and substantive power start to come through. The finish isn't overt, but it's long and persistent, and adds elegance to an otherwise powerhouse showing. Texturally, there is clearly some effort expended here – silky, moving to a sense of substance, energy, and then "scaffolding." Large and in charge.
Cheers!