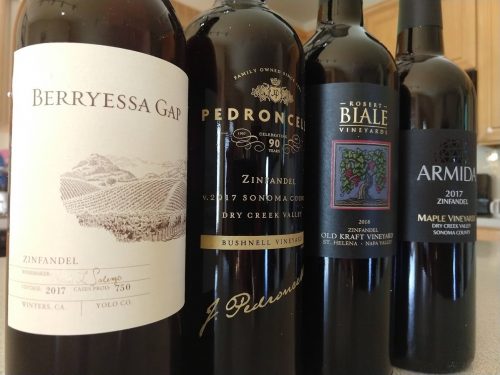 Virtual (a.k.a., remote) tastings have been a thing for several years (hell, I was involved in some of the very first… daaaaannnng, remember those?!?), but they've positively (and virtually/figuratively) exploded during this time of SIP sipping.
This has been a welcome surprise and a needed respite, since some of us (myself included) are unable to hit the road at the moment, due to a combination of factors (one of which, of course, is not wanting to unnecessarily tussle with a global pandemic when one has regular contact with high-risk loved ones).
This latest dip into SIP (Sipping In Place?) comes courtesy of my friend Robert Larsen, who organized a tasting themed on some of legendary Zinfandel vineyards of California. My thoughts on each liquid entrant are below. As always, Robert provided an educational, entertaining, and high-octane good time, even if we all couldn't actually clink glasses together IRL (where possible, I have included the words of the folks representing each brand to provide some context on why the vineyards are special)…

2017 Berryessa Gap Zinfandel (Yolo County, $22)
This one is a stretch to label legendary just yet, however there is an interesting backdrop here. Generally, I really like what winemaker Nicole Salengo is doing here, and she's going a long way in quickly getting Yolo 'on the map.' This particular Zin's angle is that it's crafted from a Primitivo clone, and so shows a spicy, lighter, zestier red-fruit side of Zin. Think cranberries, red plums, lighter tannins, and pepper. It does go down incredibly easily, which makes its deliciousness so dangerous (it's also 14.8% abv).

2018 Robert Biale Vineyards Old Kraft Vineyard Zinfandel (St Helena, $55)
According to Biale, during our tasting event:
"We have always considered ourselves part farmers, part winemakers, part historic preservation society. Like a legendary author, actor, musician or sports figure, a legendary vineyard is one that becomes famous for its proven ability to perform at the highest level leaving unforgettable impressions on those who admire. Franz Kraft was a prominent winemaker in the earliest days of St. Helena around 1860. His vineyards and winery were on the west side of town on Madrona Avenue. The iconic old native stone winery is now a cellar for the acclaimed Spottswoode Winery. The vines at Old Kraft Vineyard were planted in 1890 by Franz Kraft. Instead of tearing out the original Zin vines that were planted in the 1890's, Bill and Margie [Hart, who owned the vineyard estate] decided to go with the recommendation of vineyard guru Bill Pease who saw potential in the craggy, twisted plants. Bob Biale was brought in to assist. In 2002, drainage, irrigation, soil amendments, pruning, and inter-planting were utilized to bring the vineyard back to productive health, and in 2006 the wine had progressed to being worthy as a new special bottling among the series of Biale Zins."
Elegant, supple, with a ton of bold, deep black cherry fruit and dried, brambly herbal and tea notes, there's almost nothing about this Zin that isn't special. This is the kind of old vine magic that most of us dream about when we think of iconic CA Zinfandel; powerful, sure, but surprisingly elegant.


2017 Armida Winery Maple Vineyards Zinfandel (Dry Creek Valley, $44)
From Armida winemaker Brandon Lapides:
"I just recently celebrated my 10th anniversary of being the Winemaker at @ArmidaWinery Before becoming the winemaker at Armida, I was introduced to some old, #legendaryzinvineyards working as the assistant winemaker at @PeachyCynWinery and @DuttonGoldfield. [Maple] Vineyard is located at the corner of Dry Creek Road and Lytton Springs Road in Dry Creek Valley. The vineyard sits about 100 feet above the Dry Creek floor. 26 acres of Dry Farmed Zinfandel with an average age of 90 [years]. Owners Bruce and Steve Cousins have owned Armida for over 25 years and have been purchasing fruit from the Maple's Vineyard for over 20 years. The oldest block was planted in 1910. One of the reasons that this vineyard is legendary is that it somehow survived through Prohibition. Sonoma County removed 75% of vines during that time…Maple Vineyards survived."
Luckily for us, Maple is a survivor. The fruits are exceedingly dense are dark, with savory notes and spice action popping up all over the place. Succulent and sexy AF, there's intense ripeness here but it never gets annoying or cloying, the edges of this envelope are definitely stretched, but not at all uncomfortably.

2017 Pedroncelli Pedroni-Bushnell Vineyard Zinfandel (Dry Creek Valley, $26)
The background via Pedroncelli:
"Bushnell Vineyard is a 2nd generation vineyard. It is now 24 years old and just entering its prime. Budwood from the previous old vines make sure it continues the legacy. The singular place where the vineyard is situated: high above the (Dry Creek) valley floor. Head pruned, hand picked, legendary because 4 generations have farmed it. 1 winery has made the wine."
Winemaker Montse Reece says that Pedroncelli makes "spice bombs not fruit bombs" when it comes to Zinfandel; this big-boned red is a bit of both, but the majority is a spice explosion. Vanilla, black pepper, cloves, licorice, all carried on wave after wave of ripe red and black fruits. A hedonistic wine for hedonistic times.
Cheers!