Count Francesco Marone Cinzano didn't want to live in Tuscany. When his father moved the family to 'the hill overlooking the Orcia River' (Col d'Orcia), it was 'quite remote, the middle of nowhere." Not exactly the place to appeal to a young guy, even if the aesthetic beauty of the place was beyond question. Today, it's a different story: Cinzano is now inextricably tied to his family's winemaking estate, among a UNESCO World Heritage site in Tuscany. "I started feeling a duty of protecting this very special environment," he explained during a Zoom tasting of three of Tenuta Col d'Orcia's latest releases. "A duty to protect this treasure that I inherited and would leave for future generations. We farm biodiversity; we farm protection of the environment."
Winemaking history for Tenuta Col d'Orcia's estate dates back to the 1700s. It's changed hands a few times, as these estates tend to do, with a Florentine family (the Francheschis) purchasing the property in Colle, Montalcino that was then known as Fattoria di Sant'Angelo in Colle in the late 1800s. Today, the estate is owned and managed – with an accessible sense of flourish – by Count Cinzano.
Cinzano's commitment to the land seems to be quite a bit more than lip service. Their vineyard's limestone and marl soils, situated around At 1,500 feet above sea level, are protected by Mount Amiata against natural issues like floods and hail. They now happen to be the largest certified organic vineyard in all of Tuscany, with the longest streak of utilizing vineyard cover crop going in the region. Next to their cellar sits a small one hectare plot containing what's currently the largest selection of native grapes in Tuscany, partly dedicated to Sangiovese clonal research.
Speaking of those limestone and marl soils: Cinzano emphasized that the importance of the limestone component in particular can't be overstated in terms of defining the style of their reds. "That's the essential element for the quality of Sangiovese," he noted. "The limestone defines the quality of the tannins." As it turns out, that quality level is permanently set to HIGH…

2016 Tenuta Col d'Orcia Brunello di Montalcino (Tuscany, $60)
100% Sangiovese, aged three years in 25, 50 and 75 hl Slavonian and French oak casks, blended from all of the vineyards on the estate. "2016 was a great vintage" Cinzano noted. And, well… yeah, it definitely shows. Elegant, juicy, and reserved, with red plums, toast, vanilla bean, rose petal, and dried herbs, this red is taught and fresh, with focused red fruit flavors, and plentiful hints of leather and spices. Some lovely cherry, clove, juniper, and earth notes all make appearances, too, as do elegant touches of graphite, and dried orange peel. The finish is incredibly long, even for this relatively lofty price-point. Textbook, picture-perfect Brunello, basically, and absolutely lovely.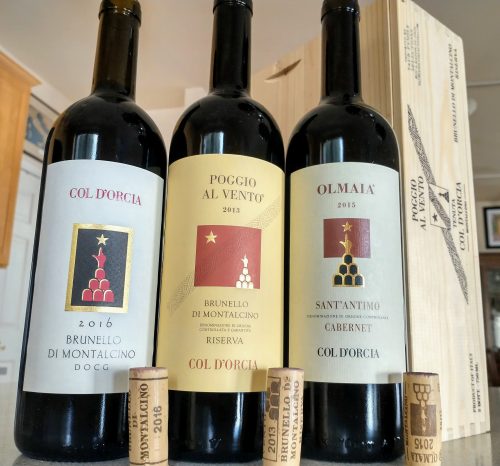 2013 Tenuta Col d'Orcia Poggio al Vento (Brunello di Montalcino Riserva, $163)
At a much loftier price-point comes this Reserva, 100% Sangiovese aged three years in 25 and 75hl Slavonian and Allier oak barrels, followed by three years refinement in the bottle. The Poggio al Vento vineyard sits in a former seabed dating back several million years, with sandy soil high in limestone and fossils, and low in water retention. The clones there have been studied for helping to improve vine quality throughout the region. Cinzano described it as "what for us is the essence of Brunello." The name means "windy heights" – close to the Mediterranean coast, it sees its fair share of sea breezes. Regarding 2013 specifically, it was "a very small vintage," according to Cinzano – "we produced only about 12000 bottles."
The operative word here, again, is elegance. "The 'elegance' element is more important than the 'structure' element," explained Cinzano. "2013 Is more on the 'elegant' side, and 2016 is more on the 'structural' side."
Wow. This red is immediately stunning. Incredibly pure on the nose, with wild raspberry, plum, cherries, dried rose petals, herbs, dried orange peel, licorice hints, truffle, and cloves. On the palate, it's all freshness, salinity, juicy cherry fruitiness, sinewy, with an elegance bordering on literary poignancy. The tannins are pitch-perfect. Talk about inviting you in for another sip… Gorgeous.

2015 Tenuta Col d'Orcia Olmaia Cabernet Sant'Antimo (Tuscany, $69)
100% Cabernet Sauvignon, sourced from the Olmaia vineyard on their estate, at about 350 meters above sea level. The name translates to 'Elm tree wood' and is based on plant remains that his father found when first planting the vineyard in 1984. At that time, "it was very difficult to sell wines from Tuscany," Cinzano stressed; "expensive wines from Tuscany were not very well known, even in Italy." This in a way afforded Cinzano's father some freedom to experiment with his plantings, thus going for Cab here over Sangio.
At the risk of sounding like a broken record here, this is both elegant and excellent. Yeah, the dried herbal side and dusty tannins of Tuscany come through, as does the acidic verve, but there's so much depth and lovely balance here, especially between the tangy red fruits (plums, currants) at its core, and the darker black fruits that provide the roundness at its edges. A downright dreamy Cabernet.
Cheers!