Add yet another locale to the list of gorgeous places that I'm supposed to be visiting, but the opportunity for which has been heinously denied to me due to the USA's botched response to the current pandemic: Fort Ross Vineyard on the Sonoma Coast.
My experience with FRV, as has been the new normal lately, comes via media samples and an on-line live tasting, courtesy of Fort Ross Vineyard & Winery, and their winemaker, Jeff Pisoni. But dammmmmmn, this is the kind of place that I would rather be feeling under my toes.
FRV, according to Pisoni, is "such a remarkable site, it's almost intimidating. It's just a very interesting place. The vineyard is the style." Founded by a South African couple (owners Lester and Linda Schwartz) in the late 1980s, this is the kind of vineyard that exists due to sheer force of will. Located in a sparsely populated area with few vineyards, and taking four years to prepare for plating vines, UC Davis believed that the spot – roughly 1600 feet in elevation; located above the fog line; and at one measly mile from the Pacific, closer to the ocean than any other vineyard in all of California) was simply too cold to properly ripen grapes.
UC Davis was, of course, very wrong, and FRV now stands as one of the most visually striking and vinously impressive places growing Pinot Noir in the U.S. To wit…

2017 Fort Ross Vineyard "Sea Slopes" Pinot Noir (Sonoma Coast, $35)
A newer label, blending estate with some purchased fruit, and meant to be the gateway drug into the FRV Pinot style, this is brighter than a clear summer's day, as juicy as freshly-picked wild red berries, and as energetic as an un-grounded electrical outlet. You also get a lot of aromatic complexity even for an ambitious "entry level" price as this one, including plums, cloves, tea, saline, flowers, and tart cranberry. Delicious stuff.

2017 Fort Ross Vineyard "FRV" Pinot Noir (Sonoma Coast, $52)
The main FRV wine, blended from about six blocks growing four different Pinot clones, and meant to be a balanced showcase of the vineyard's "very narrow growing window" as Pisoni described it. Dried herbs, spices, forest floor, tea leaves, dark berries, licorice, all with lithe structure, depth, and class… it's a hard glass to put down.

2017 Fort Ross Vineyard "Top of Land" Pinot Noir (Fort Ross-Seaview, $80)
Utilizing fruit from two of the highest elevation FRV blocks, this red brings the savory. While structured, there is lovely richness and a crap-ton of intense spiced plum action, salinity, and sexiness, along with dried lavender, bramble, blue plums, Bing cherries. A red that gives you bedroom eyes.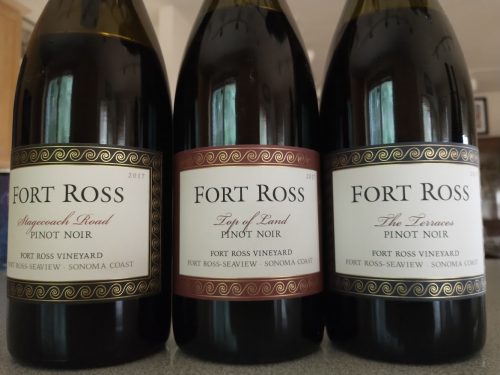 2017 Fort Ross Vineyard "The Terraces" Pinot Noir (Fort Ross-Seaview, $80)
Sourced from a single block consisting 100% of the Calera clone (whose origins at the site are, apparently, of dubious legality), where the land is steep, the yields low, and the fruit seemingly very damned good. With mulberry, juicy black cherry, dried citrus peel, sandalwood, Christmas spices, and a long-ass wild raspberry-filled finish, this is an insanely balanced, supple, and structured PN. It brings the muscle, but doesn't forsake technique or fanfare.

2017 Fort Ross Vineyard "Stagecoach Road" Pinot Noir (Fort Ross-Seaview, $80)
Interestingly, this wine's namesake road is notorious for being where the Wells Fargo stagecoach would get robbed. Despite the lofty sticker price, this PN won't leave you feeling fleeced in the slightest: think boysenberry, beet root, cocoa, earth, black raspberry, baking spices, and boldness. With this site being on well-drained, gravelly-loam soils that are within the fog line and sit quite close to the Pacific, the fruit sees somewhat cooler conditions, supposedly responsible for this wine's dense, meaty, grippy, and powerful mouthfeel. Hella good, and should age with grace.

2009 Fort Ross Vineyard Pinot Noir (Sonoma Coast, $NA)
A library selection from Pisoni's first vintage with FRV (which he described as "a really great year"), this Pinot is still fruity, with lifted aromatics, lots of red plums, raspberries, currants, forest floor, and spices. The palate shows maturity, and floral overtones, along with hints of cocoa, grilled orange peel, and enough umami to stock a Japanese restaurant's kitchen. It's drinking wonderfully; too bad you're unlikely to find it (don't hate me!).
Cheers!