My vote is "YES."  It is possible, people – it's just a bit tricky and, like going up against the better NFL defenses, requires careful planning. Wine can work at a tailgate party. I'm trying to stay interested this season, despite the Steelers' lagging playoff run hopes. And yes, I realize that we lost to the Browns this season. Still trying to deal with that one…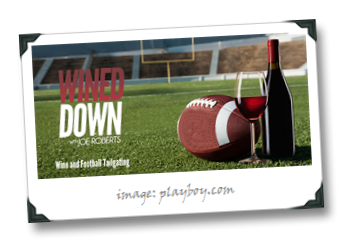 Anyway… wine + tailgate requires a strategy because, as anyone who has ever braved freezing cold stadium parking lots can attest, beer has an all but complete lock on tailgating festivities. I happen to love beer, but I don't think that should mean that wine never sees the fun of a good tailgate. To get an insider perspective on all of this, I recently got some time in with former NFL rookie sensation Rick Mirer during wich we talked wine, football, and the tailgate for my latest Wined Down column for Playboy.com.
Why talk to Mirer? He is uniquely positioned at the intersection of wine and American football; after he left his journeyman career in the NFL, he started up a Napa wine label and a charitable foundation for children's health and education. He seems to be a pretty nice guy; at least he didn't hang up the phone when I told him I was a die-hard Steelers fan ("hey, I appreciate loyalty," he told me when I asked him if my cheering for an NFL team that was one of his staunchest rivals was a deal-breaker for our conversation). And yes, I know we lost to the Browns this season, okay?!??
Anyway… For the record, Mirror makes a fairly complex and hefty Cabernet Sauvignon (I enjoyed the 2008, but its rich, dense and chocolaty style is better encountered at the steakhouse than on the back of an SUV outfitted for a tailgate party); their 2010 Sauvignon Blanc won't be mistaken for Sancerre anytime soon, but does the Napa SB thing pretty well, and has a nice acidic line to carry the low-hanging, ripe tropical fruits.
Personally, I've had success with both inexpensive and pricier screw-capped wines at the tailgate (cork extraction – and corked wines! – are both generally a bit of a buzz kill in the parking lot) as well as with Tawny Port (paired with stogies) in post-victory, wait-for-the-cars-to-thin-out environs.
How about you? Have you pulled off wine successfully at a tailgate party? Or should we all just stick with beer and forget about it? Shout it out in the comments!
Cheers!