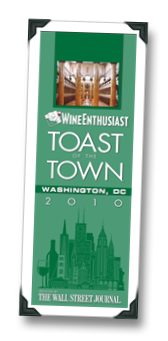 This Friday (June 11), Wine Enthusiast will be finishing up their 2010 Toast Of The Town events at the National Building Museum in downtown D.C., where some ridiculous number (upwards of 500) wines will be poured for you to sample.  And we've got a discount code for ya!
I'm always of two minds about events like these.
On the one mind – wait, that sounds terrible, let's go with hemispheres instead – on the one hemisphere… ok, that's crappy too; on the Right brain (I like this one better), access to so many wines (even more if you spring for VIP tix) provides a fantastic opportunity to up your wine tasting IQ, and it's just plain fun in an overwhelming, hedonistic kind of way.  Add great food to the mix and you're looking at a gourmand sensual overdose of awesome.
On the Left brain, it's probably gonna be crowded, and you just know that some people are not going to be spitting, which means they are going to be drunk.
If the prospect of facing drunk wine enthusiasts (and possibly drunk wine bloggers, since I'm working on attending the event myself) doesn't frighten you, then I'm pleased to offer you a 1WineDude reader discount to the event:
You can get $10 off Grand tickets and $20 off VIP tickets – just purchase tickets by going to www.wineenthusiast.com/toast and enter in the promotional code WD2010 during the check-out process.
Cheers!