This week, Wine.com – the largest on-line wine retailer, and still everybody's "love-to-hate-'em" choice for performing their own self-serving wine distribution 'sting' operation last year – has released the third annual list of their top 100 best selling wines.
The top 10 in that list potentially tell us a lot about U.S. consumer wine buying preferences, because of the size of its business (exact numbers are a bit difficult to come by, as the company is still privately held).  Here they are (click the image to embiggen):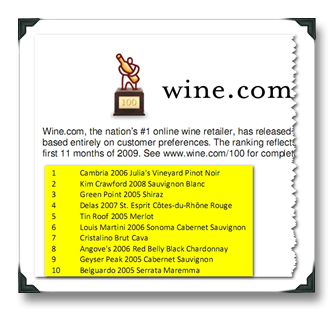 What those top 10 wines tell us is… well, a bit of something old, and a bit of something new…
At first, some of the selections might seem a bit surprising.  Cava at #7?  And a Tuscan IGT at #10?  But they all have two quite telling aspects in common:
They all scored 90+ points by one of the established wine print publications (The Wine Advocate, Wine & Spirits, Wine Enthusiast, Australian Wine Companion, Wine Spectator, etc.) – that's the "something old"…

They all retail for under $20 – that's the "something new."
Not that consumers haven't been budget-conscious for quite some time now, but this list underscores the fact that wine consumers (myself included, though I don't shop at wines.com) are looking for the highest bang-for-the-buck factor out of their wine purchases, probably more so now than at any other point in modern wine buying history.
That's not exactly "new" news, but it's newer than the other insight that we can glean from this list, which is that points and printed publications continue to significantly influence wine purchases.  For better or worse, the assumption on the part of the consumer is that a high points score + a low retail price = big value for money.
Are there implications for this about wine buying and the influence of social media and non-print wine publications? I certainly think so.  While a sea change has already taken place in how consumers get their information about wine (away from traditional media and towards on-line and social networking recommendations), that sea change has not yet dampened the socks on the feet of those to whom wine consumers turn to solidify their buying decisions.
In other words, points still rule the game for most when it comes to buying wine in the U.S.
Let's discuss in the comments (you know you wanna on this topic!)…
Cheers!