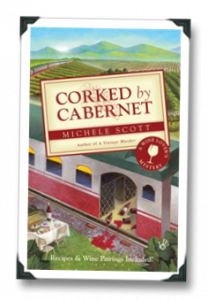 We have WINNERS!
As promised in my recent review of Michele Scott "Wine Lover's Mystery," titled Corked by Cabernet, I've got two giveaway copies of the book to, well, give away/
I've used a super-secret random process involving my dog to select two random winners from the list of commentators for that post, and here they are…!
1) RichardA of passionatefoodie.blogspot.com
2) S Goodwin of… well, I dunno where S Goodwin is from, actually.
Lucky Winners – Please e-mail me at your mailing info. at joe (at) 1winedude (dot) com and I'll get you your prize copies of  Corked by Cabernet with all-speed.
Cheers!