Hang on to your tin foil cone hats, people.  Today's discussion is about to get… freaky.  For those of you who give up on me in this post, I promise this will be the last time I talk about the Andromeda Paradox in relation to wine, ok?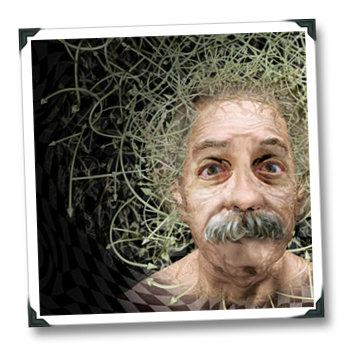 You see, the thing is, time is relative.  Which means that your future may be predetermined; which means that you might not actually have the freewill that you thought you had, but it doesn't matter anyway because you need to fulfill the destiny of the present moment because that's the only moment that truly matters because it's immutable.  So if you're drinking a glass of wine right now, give it your full attention because as far as that immutable moment is concerned, you will be appreciating that wine for eternity.
Don't worry – it will all make sense in a minute or two.  Or several.  I think.  Let's start at the beginning.
Time is relative
I hate to be the bearer of bad news, but the sense that time is the same for all of us is an illusion, though happily the relativistic nature of time only manifests itself when dealing with extreme circumstances, like, say, traveling in a car at almost the speed of light (sorry, speed demons – even the latest Yahama crotch-rocket motorcycles can't even come close to that speed).  But the fact remains, proven scientifically with astounding accuracy: time is not the same for all observers in the Universe.  Which results in interesting phenomena like the Andromeda Paradox.
Your Future Has Already Happened.  Sort Of.
In the Andromeda Paradox, "when someone is moving towards a distant point there are later events at that point than for someone who is not moving towards the distant point. There is a time gap between the events in the present moment of the two people." 
Let's look at it this way – let's say you're on vacation in the Andromeda galaxy and are planning on enjoying some kick-ass Andromedean wine.  Back on Earth, one of your wine-loving friends is looking to the sky via telescope to see how your Andromeda wine-vacation is coming along (let's ignore the fact that it would take about two million years for the light to reach her telescope).  If your friend is at her house (stationary, in Earth terms), what she might see is you contemplating what wine to buy and where to drink it.  Simple enough, right?
Let's say your friend then calls one of her friends via cell phone.  That particular friend is in a car, moving very fast (like, almost light-speed fast) in the general direction of the Andromeda galaxy, and also has a kick-ass telescope.  Ignoring the rules of good road safety, he decides to look into his telescope while driving to see how you're coming along on your vacation, now that your first friend has piqued his interest by mentioning that you were vacationing in Andromeda. 
But what he sees is not what your other friend sees.  He sees you already at an Andromedean restaurant and drinking the wine that you've not even yet decided on trying according to your other friend.  Your stationary friend?  She sees you still deciding what wine to try.  And both of them are right.
Hence the paradox: "…two observers observe the same events – two million year old events in their telescopes – but the moving observer must assume that events at the present moment on Andromeda are a day or two in advance of those in the present moment of the stationary observer."
And the freakiness has only just begun…
Every Moment – Including Your Wine Appreciation – Is Forever
To get really freaky, consider what this means: you've already made your choice of wine, from someone else's standpoint.  Not only that, but if you're friend's friend drove in a direction away from Andromeda, he'd see events in your past.
This suggests two things:
1) You are predetermined, destined, to make that choice of wine.
2) Each and every moment in the history of your Universe is immutable, and accessible to an observer under the right conditions.  The Universe "remembers" every moment.  Every moment is, was, and always will be.
In other words, the passing of time might also be thought to be an illusion, with the arrow of time moving forward primarily because of the laws of entropy.  Maybe the present moment is the only one that will ever matter.  Buddhists and Taoists knew this, though they reached the conclusion very differently – hard science backs them up.
What the hell does this have to do with wine? 
Everything, but only in so much as wine has to do with everything else in your life.  If the present moment is all that really matters, then your next moment with wine ought to be thought of as kind of special, even if it's just a simple sipper that you're cracking open with your grilled salmon burger on a sultry Summer evening.  So open that bottle of wine and give it your full attention – because in that moment it will be the only thing that matters.  Really smell it, really taste it, really savor it, because you'll be doing it forever (so try to pick a good bottle, okay?).  And know that be doing so, you'll sort-of be fulfilling your destiny.
Pretty heavy for a Monday, eh?  I think Einstein would have prescribed a glass of wine to help with that…
Cheers!
(images: cienciakanija.com)