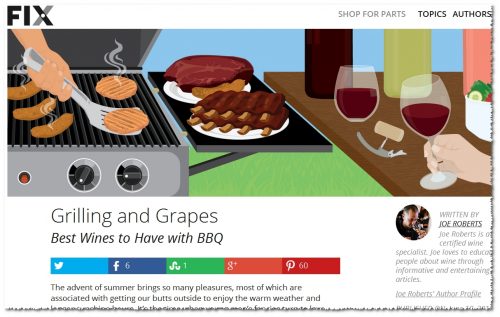 With warmer weather finally upon us in the Northern Hemisphere, my latest for Fix.com ("Grilling and Grapes") focuses on what wine grapes to keep in mind when you're firing up the grill.
Wine-and-seasonal-food-stuff-pairing articles are nearly as annoyingly omnipresent as drink-rose-in-the-Springtime articles these days, but because this is my writing that we're talking about here, you know that I snuck in some slightly off-the-well-trodden-path options.
As always, the Fix.com folks have provided appealing, immediately-digestible visual awesomeness that far exceeds what my words are able to achieve (see below for kick-ass evidence).
Get thee to the wine shop, and then get thee to thy grill!
Cheers!

Source: Fix.com Blog