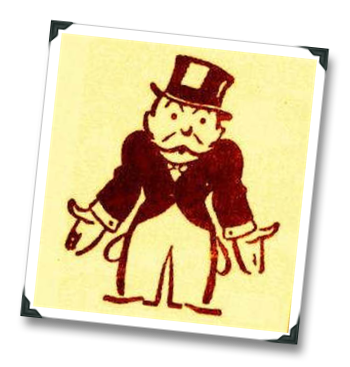 I love writing about wine.  And I often encourage people who love wine to blog about it, since it's so easy to set-up a blog, and it's such a great way to record your thoughts, feelings, and observations as you travel your own personal 'wine journey'.
Sometimes, when a wine lover that I know gets a bit more serious about their quest for wine knowledge and for wine blogging, I get asked questions about how they can monetize their blog, and what type of money the can expect to bring in via their blog.  The conversation usually goes something like this:
Them: So… what kind of money are you making on 1WineDude.com?
Me: Not much.
Them: Really? Like, how much is not much?
Me: Like, almost nothing.
Them: Really?
Me: Really.
Them: Oh.
[ insert awkward silence and disappointment ]
For reasons that I find difficult to comprehend, some people tend to think that wine blogging can become a source of direct income. If you're one of those people, I've got some bad news for you.
You'd better be passionate about wine if you want to blog about it, because monetary reward is not really going to be part of the pay-off for you. 
Simply put, you aren't going to make any serious money from wine blogging…
Let's take a look at why this is the case:
1) In a large part, earning direct income from a blog – any blog – is a function of advertising.  And advertising is a function of traffic.
In other words, it's a bit of a numbers game – if you want to make coin via your blog, you need traffic.  More traffic = more advertising = more lucrative advertising rates.  Low traffic usually means low earnings.  Simple, sad, but true.
2) Wine blogging is NOT a high-traffic niche. 
Sorry folks, it just does not compare with blogs about self-help, or tech blogs.  This is probably best demonstrated by way of an example.  Below are some website traffic numbers from Compete.com that compare two of the biggest wine blogs on the global interwebs, Alder Yarrow's Vinography.com and Tyler Colman's DrVino.com.  I threw in 1WineDude for good measure (I make no pronouncements as to whether or not Compete.com has totally accurate numbers, but they should be close enough to reality for use in our example).  As you can see for the snapshot, their traffic smokes mine: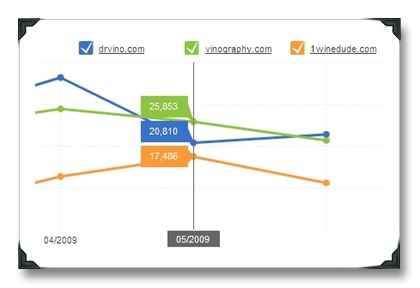 Now, let's take a look at the wine blogging big boys compared with a very popular tech blog, like Lifehacker.com: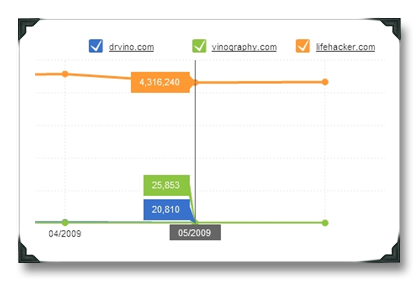 Our boys don't even chart in comparison; Lifehacker gets something like 167 times the traffic.  Bottom line: if you want monstrous traffic (to lead to monstrous ad revenue), you'd better blog about something other than wine.
3) You don't have the hustle! 
It sounds a bit harsh, but it might also be true.  To get a feel for the monetization of wine blogs, I spoke with Cincinnati-based blogger Tim Lemke, the mastermind behind CheapWineRatings.com who recently gave a presentation on blog monetization at the 2nd annual American Wine Bloggers Conference in Sonoma (you can read Tim's entire presentation here).
According to Tim, advertising revenue (or, rather, lack thereof) isn't just a function of wine blogging being in a low-traffic niche:
"Yes, wine is a relatively finite niche. But most wine bloggers, myself included, are half-assing it.

If someone wants to really make money as a wine blogger (or a blogger on any topic) they need to put up several new posts every day. Not 2-3 per week, not even just 1 per day, it takes tons of good content to be successful.

You made a comparison to LifeHacker and they are doing 20+ posts per day. While they may have some traffic advantage with their subject matter, they are busting out a ton of content. WAAAAAYYYY more than most wine bloggers. They're doing more content in a day than most wine bloggers do in a month.

So, yes it's hard to make money as a wine blogger. But it's hard to make money as a blogger in any niche unless you totally bust ass and create a ton of killer content."
The old adage remains true: Content is king.  And to be successful, you need to hustle and create a ton of great content.
It's not all gloom and doom, however – your wine blog can still be a vehicle into many forms of indirect revenue, such as selling eBooks, consulting, or landing writing gigs.  For more on all of that, check out Tim's monetization overview.
Now – get hustling!
Cheers!