I recently received a shipment of wine samples from the critics' darling Molly Dooker, which came with a handy set of instructions on how to perform the now-famous "Molly Dooker Shake."  The Molly Dooker shake is the arguably inelegant but certainly effective way to release the nitrogen that is used is bottling several of the Molly Dooker line of wines.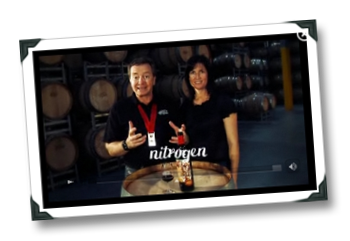 But I ran into some trouble when I hopped onto the Molly Dooker website to learn a bit more about why they use nitrogen in the winemaking process in the first place.  Not technical trouble, but accuracy trouble.
The accuracy trouble is that their explanation contains less truth than it does (as Steven Colbert likes to put it) truthiness.
Here's the explanation, given both on the Molly Dooker website and in the demonstration video of the Molly Dooker shake; I've added comments to the quote below to indicate the parts that as far as I can tell have Truth and those that have truthiness:
"Why do we use Nitrogen gas in our winemaking? Sulphites are often added to wine after fermentation to protect the wine from oxidation [Truth]. The only problem is that some people have an allergy to high levels of sulphites [Truth] and may get headaches [truthiness – if they mean getting headaches from sulphites, that is]. By using Nitrogen to protect the wine during winemaking, we can use less sulphites [Truth] and more people can enjoy our wines [truthiness]."
Now… let's break this truth vs. truthiness down in a little more detail…
Exposure to sulfites in drinks and food can indeed cause a severe (and in very rare cases fatal) asthmatic reaction. But before you start pouring all of your fine wine down the sink drain, you should know that only 0.01% – 01.0% of the U.S. population is estimated to be allergic to sulfites (probably fewer than 1 in 100 people).
I've tackled this subject before, but I figured it bears repeating in this case so I hope you'll forgive the rehash of some rather old-ish content (downright ancient content, in blog-o-world terms!):
If you're even an occasional wine drinker, chances are that you've heard the rumor that sulfites in wine cause headaches. Despite being popular in the rumor mill, there is no scientific evidence to suggest that 'wine headaches' are caused by sulfites. In fact, if you do get headaches when drinking wine, chances are higher that the headache could be a reaction to any of several esters (flavor compounds) that occur naturally in wine. Chances are greater still that you simply have a hangover (so drink more water next time, my party-loving friend, or – egads! – drink less wine).

Now back to the chemistry: sulfites are produced naturally during the fermentation process (so you probably are exposed to them in some beers, soy sauces, and other fermented liquids). The amount produced naturally is pretty small – anywhere from 6 to 40 ppm (parts per million). PPM is roughly equivalent to 1 milligram of something in 1 liter of water. Another way to think about it – 1 ppm is about 4 drops of ink in a 55 gallon barrel of water. Dangerous if you're talking about arsenic, but not so much when you're talking sulfites.

U.S. government regulations stipulate that wines containing 10 ppm or more of sulfites need to display a warning on the bottle, in order to alert consumers that are allergic to sulfites. Since more than 10 ppm are created during fermentation, and given that the labels don't have to specify the amount of sulfites the wine contains, that pretty much means every bottle of wine needs to carry the warning – effectively making the warning a bit useless and confusing consumers that may not be allergic to sulfites.

Sulfites are also added during the winemaking process, which can up the ppm of the sulfites in your wine (the U.S. government allows up to about 300+ ppm). Why do winemakers do this? They've been doing it for hundreds of years – the first historical record of its use in winemaking is from a royal German decree in 1487 – in order to kill bacteria, prevent browning of wine form oxidation, and to help stabilize the finished wine. The 1487 decree specifies use of about 19 ppm of sulfer, which according to wine writer Hugh Johnson (in his Story of Wine) is an "improbably low" amount.
Bottom line: sulfites probably aren't giving you headaches; and if you had an allergy to sulfites, you are likely already on a restricted diet because many, many other food products would probably have almost killed you via a severe respiratory reaction before you ever had any wine.
Thus endeth the diatribe, err, lesson of sorts.
Cheers!
(images: mollydooker.com)