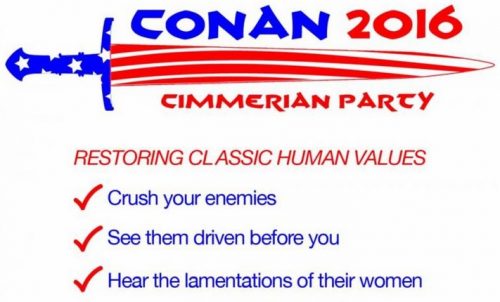 A good number of people, both within the USA and abroad, read this blog. At times, that includes a lot of the U.S. wine biz, but also many wine lovers and wine insiders abroad. This post is dedicated to all of them.
Look, I'm not gonna sugarcoat this, things have been pretty f*cked up since the 2016 presidential election concluded. Yes, a minority of the population of largely white voters actually replaced a wildly popular sitting president with someone who has never held public office, and has an at-best questionable truth-telling record, among many other distasteful episodes of past behavior. Given Clinton's shaky popularity, and Trump's, well, everything, I wouldn't be surprised if "Conan the barbarian" was written in as a viable alternative on a not-insignificant number of ballots this year.
Sadly, there have been crazies emboldened by the outcome of this recent election; I myself had to Facebook-block a few people, the most abusive of which was a Navy serviceman, which is just profoundly messed up. Even sadder, wine writer Eric Asimov was harassed online, presumably because being Jewish, American, and outspoken is somehow viewed as wrong by a very demented few.
So, yeah, when wine writers – a demographic about whom almost nobody should really care passionately unless they have a glass of vino in hand – are getting harassed, then things are definitely very, very f*cked up. While I certainly understand the need for some drinking right now (two nice recommendations on that coming up soon), I don't think that the results of the recent election should send anyone into total panic mode. Deep concern, yes; panicked terror, no.
Why not? Because America has faced worse adversity than the political divisions that currently plague us, and we've always come out better for those experiences; maybe not immediately, but certainly better in the long run.
The president-elect ran on a campaign slogan to make America great again. Having traveled to and/or worked with people in Canada, Mexico, Chile, Argentina, Uruguay, Brazil, the UK, Portugal, Spain, France, Germany, Italy, Greece, Austria, Kenya, Tanzania, South Africa, Russia, India, China, and Australia (and that's not a complete list), I have a bit of a global perspective. And nothing against any of those wonderful places, but there is nowhere that I would rather live than the USA. America is, was, and almost certainly always will be great, not because an elected official tells us so, but because we are a nation that recognizes that we are consistently made better through increased diversity and tolerance, and I have faith that, as such a nation, we have come too far along that path for our course to be permanently diverted. Distracted and delayed, maybe, but not diverted.
At our heart, we're a band of fighters; we don't capitulate. Our greatness – our true greatness as a nation – lies in our goodness, and our goodness is almost always in direct proportion to our support of one another, no matter their gender/sexuality/creed/etc.
Hopefully, we can all drink to that; and I've got just the wines (from the sample pool) with which to start…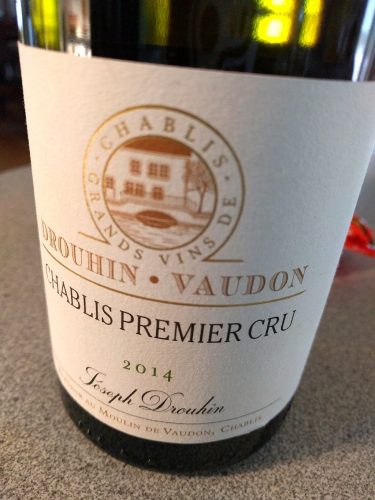 2014 Joseph Drouhin Vaudon Chablis Premier Cru ($40)
No, this isn't from the USA, but please indulge me, because getting our heads out from our own navels for a moment actually sounds like a good idea to me, ok?
This steely delight is blend of Chardonnay grapes from Premier Cru parcels, both estate and purchased, with fermentation in used oak. Now, this pastiche approach ought to be setting off our Chablis-reviewing Spidey Sense, but thankfully in this case it's largely a false alarm. This is a delightful wine, with aromas that are both delicate and precise: citrus, coriander, flint, white flowers, and peaches. Even at 13% abv, there's enough body here to balance the raciness, and enough superb winemaking talent to imbue the entire glass, start to finish, with a sense of seriousness. In other words, it'll make you forget all about the 2016 election for at least a few minutes, and you won't even have to be drink (yet).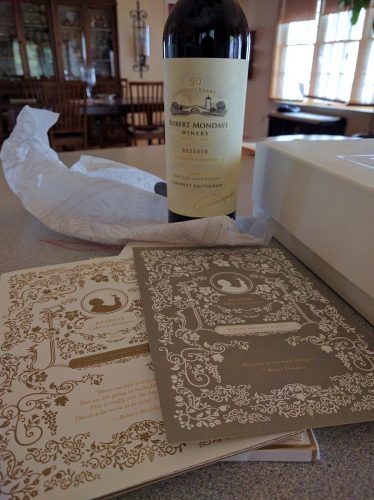 2013 Robert Mondavi Winery To Kalon Vineyard Reserve Cabernet Sauvignon (Oakville, $155)
Technically, we've been here before, but this was the first time that I was able to sample the 50th anniversary RMW Reserve Cab as a finished product from the bottle. It was worth a revisit, particularly considering how fantastic the vintage weather was for Cab grapes in the Valley.
Back in July, I compared a pre-release tasting of this vintage to "a really well-executed psychological thriller," and the comparison still holds. This is a big, muscular, intense wine, with a little time in repose now accentuating the black fruits and cocoa spiciness. There's more earthiness now, too, but in the mouth this is the same grippy, textually-fascinating stuff that I tasted at the winery this past summer. In other words, unlike just about all politicians anywhere worldwide, in this we have something promising great things and actually starting to deliver on the promises almost immediately. 88% Cabernet Sauvignon, 8% Cabernet Franc (yeah!), 4% Petit Verdot, 100% ass-kicking.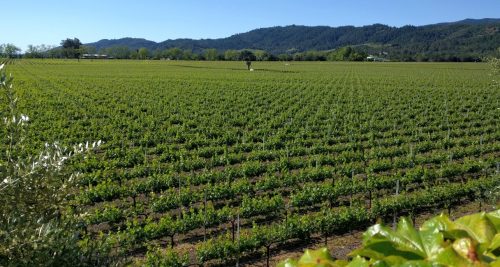 Cheers!