Sonoma CoastThe 2011 West of West Wine Festival is almost around the corner – held in Occidental, CA, the festival will showcase cool-climate (well, cool-climate for CA, that is!) Pinots, Syrahs and Chardonnays; limited production wines from wineries that are not usually open to the public. These are West Sonoma Coast producers who are making vino that is not easy to get your grubby wine-lovin' hands on – unless you're selected as the winner of our latest giveaway, that is.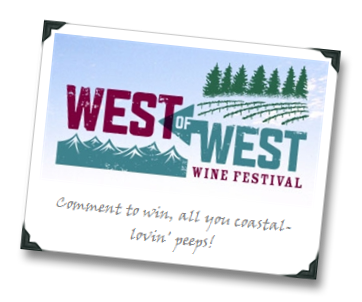 I've got one ticket to the the West of West Wine Festival's Grand Tasting on Saturday, August 6th from 3:00-6:00 pm in Occidental, CA – a $125 value, which we're giving away to one lucky randomly-selected commenter! The giveaway also includes free access to the Barrel Tastings & Open Houses on Sunday, August 7th (details to be provided in the Grand Tasting).
The skinny: YOU leave a comment on this post, letting us know your fave Sonoma wine recommendation (in keeping with the theme, Coastal recommendations are preferable but let's keep it open to all of Sonoma). At 8PM ET on Wednesday, July 20 I will randomly select a winner from the commenters, who will be notified via e-mail.  Easier than suckin' down a chilled Sonoma Coast Chard on a hot Summer night. So get crackin', peeps!
The fine-print: This ticket admits one person to the above-described Grand Tasting event on August 6th and includes free access to the event's Barrel Tastings & Open Houses on August 7th. No travel, meals, accommodations, "escorts," hovercraft (though that would be awesome, wouldn't it?), monkeys (also awesome) or anything else provided.
Looking forward to reading about your faves!
Cheers – and good luck!!