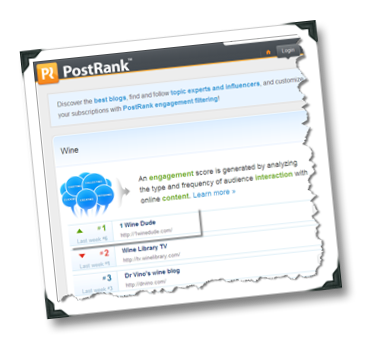 Intrepid Wine Enthusiast editor and fellow blogger Steve Heimoff pointed out to me this week that 1WineDude has somehow found its way into the top slot in PostRank's wine blog rankings.
Steve and uber-wine-industry blogger Tom Wark have both recently penned blog posts about the various rankings of wine bloggers in one form or another – both takes are well worth a read.
What does the PostRank ranking mean?  Aside from the obvious – i.e., temporary bragging rights over #2 Wine Library TV – I'm not sure what it means.  I attempted to find out by checking out how PostRank comes to its ranking decisions, but I couldn't figure it out in 15 seconds, so I gave up.
I'm grateful, I'm happy, and I don't plan on changing anything because all of this ranking business doesn't tell you whether or not you'd like reading 1WineDude.
For those bloggers finding themselves at the top of any of the various ranking algorithms these days, I'd offer the following bit of time-honored wisdom:
According to General George Patton, "For over a thousand years Roman conquerors returning from the wars enjoyed the honor of triumph, a tumultuous parade. In the procession came trumpeteers, musicians and strange animals from conquered territories, together with carts laden with treasure and captured armaments. The conquerors rode in a triumphal chariot, the dazed prisoners walking in chains before him. Sometimes his children robed in white stood with him in the chariot or rode the trace horses. A slave stood behind the conqueror holding a golden crown and whispering in his ear a warning…"
I like to think that warning went something like this:
"The higher the monkey climbs, the more you can see of his butt."
Cheers!
(images: postrank.com)