Yeah, yeah, I know… but I so infrequently plug sponsors on 1WineDude.com that you ought to cut me a little bit of slack, especially considering that this new sponsor could be a source of some pretty decent holiday gifts for the more-nice-than-naughty wine lovers on your list.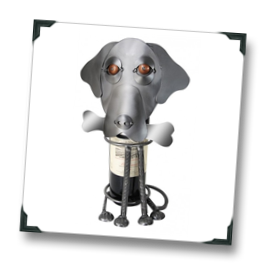 Metal Imagination has joined the list of blog sponsors here, and while I've yet to try their products, a brief glance at what they have to offer on their website reveals some pretty interesting gifts for those who dig wine and dig the metal look.  I mean, they've bent metal into a Labrador retriever wine bottle holder, for pete's sake – that's just friggin' cool.
Anyway, here's a bit of history on MI:
An exclusive authorized dealer of H&K Sculptures, Metal Imagination offers wine bottle holders, business card holders, and metal sculptures recognized around the world. A light, tasteful European style whimsically depicting American style, the handcrafted artwork is the vision of German sculptor Guenter Scholz. Since 1997 the environmentally friendly sculptures possess a uniqueness and capacity for personalization second to none.

Introduced to the United States in 2000, the unique gifts from Metal Imagination have served a practical and artistic purpose to thousands of customers. Perfect for any holiday, corporate event, and any other occasion imaginable, personalized wine bottle holders and metal sculptures offer recipients a gift beyond the scope of the obvious. Depicting facets of American life including transportation, professions, and animals, hundreds of models are available with new models being conceptualized and created year around.
OK, shameless plug thus endeth.
Coming in two days – the 1WineDude.com Top 10 Most Interesting Wines of 2009!
Cheers!
(images: Metal Imagination)