Welcome to the Weekly Wine Quiz!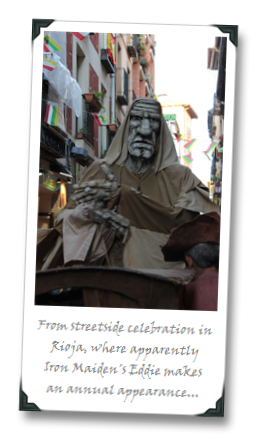 Based on feedback from ever-so-vocal-and-intelligent peeps like you, I do not supply the quiz answer directly in the post – you will need to tune back in later in the comments section for the answer. Yeah, yeah, whatever, let's get to the question already!
Our current round of wine quiz questions are focused on the Rioja winemaking region, and hopefully Friday the 13th isn't an unlucky day for your wine smarties!
The (Spanish) Name Game
How Did Spain's Rioja region get its name?
A.  From the Latin word Rialia which refers to small regional tributaries
B.  From an ancient Basque word meaning "land of rocks"
C.  Either A or B – no one knows for sure
D.  None of the above
Cheers – and good luck!