Welcome to the Weekly Wine Quiz! This week, we're inspired in part by the insanity of the U.S. election activities, and so the quiz is going all patriotic and American on you. I think the quiz may get answered long before the results are in for the Presidential election tallies in Florida. But then, I might become a grandfather before that happens…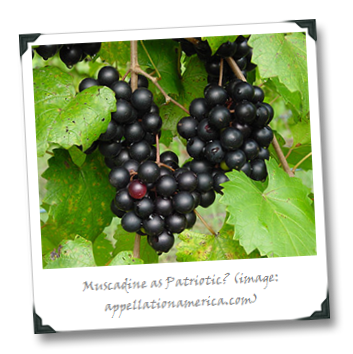 Standard disclaimer: I supply the quiz question, but *not* quiz answer right away. You supply your best guess as to that answer in the comments, and then tune back in later in the comments section for the 100% official answer.
Go Patriotic… Go Muscadine?
True or False: during Roosevelt's first administration, the federal government entertained the idea of providing subsidies to plant muscadine vines in the Southern U.S., as a means of stirring economic growth by producing a cash crop for farmers and providing low-cost wine for sale?
Cheers, and good luck!
p.s. – These quizzes run previously in the Local Wine Events newsletter, which is a fantastic way to keep tabs on wine events happening in your area. If you've net yet signed up for LWE, get on it!