"Literally all my savings all went into the winery to keep it afloat… it was the most challenging time of my life."
Winemaking, especially in these troubled economic times, is not for anyone whose skins might be thinner than your average Cabernet grape's. Case in point: Volta Wines.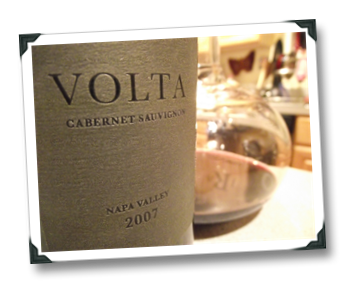 Longtime 1WineDude.com readers will no doubt recognize the name Volta – it's one of the wines that more-or-less put me on the wine-reviewin' map. I was the first person to ever critically review Volta's inaugural Cabernet release publicly, and though the review predates my grading system for wine reviews, the rough equivalent I keep coming back to when I consider the balance of power, focus and suppleness in their first release is "A-" – in other words, an excellent wine and getting that right that early is a stellar achievement for a producer's first try.
Lucky for me, my impression of the Volta 2005 Cab was by-and-large validated by others in the established wine media at the time, including my bro' Gary Vaynerchuk – that's the "puttin' me on the map" part –  and over the successive months I found myself often wondering  How's it going with the Volta guys? and Is Volta ever gonna release an `06?
The answers to those questions turned out to be "Not well" and "No," respectively – a 2006 release never materialized because the entire Volta outfit almost tanked under the weight of the imploding economy.
Yikes.  Turns out the blow wasn't quite fatal, however.
It's with great pleasure that I tell you that Volta is still alive and kicking – I am very pleased today to present not only the first critical review of Volta's 2007 Cabernet Sauvignon release (is it appropriate to call this a "comeback" release already?), but also a limited-time discount on Volta wines for 1WineDude.com readers!
First, let's talk about the 2007 release, and the journey it took to get there… then we'll get into the nitty-gritty of the discount after the jump…
Steve Lau recalled for me the "missing months" between Volta's critically-acclaimed 2005 release, the return to production in 2007, and the scilla and charybdis moments in-between:
"The reaction to the first release was actually way better than we could have ever hoped. From a press perspective, it started with your review and then vintrust and wine spectator and the gary v. / wine library show that he dedicated to the wine… we believed in the wine and knew it was good but were so flattered when people that we really respected in the industry started talking about it favorably. Then the orders started coming in from all over the place. Collectors, wine fans etc. We had to limit our shipments to accounts and distributors because we want to be able to sell the wine directly and have a relationship with our clients as much as possible – with that said we are so honored to be in the accounts that did get into. There were only 290 cases.

Then I went through a challenging time with the winery… market crashed, my investor pulled out at the last minute right after harvest… literally all my savings all went into the winery to keep it afloat… had two vintages in barrels… owed people money…didn't have another job…moved to the west coast… it was the most challenging time of my life. I decided to skip the 06 vintage because I didn't have money to harvest and buy barrels and thought I might lose everything. Everyone stuck in, winemaker, grower, accounts and after pounding the pavement for over a year. I met my current business partner, Frederick McCarthy, through a close mutual friend… everything is back on track and better than before and it's all the same team with the exception of Frederick who has become an invaluable part of the winery as well as a friend. It was his belief in me, the wine and our vision of where we might be able to take this together that really pulled Volta through.  We're releasing 450 cases this year and production is up to 1000. That is as much as the vineyard will produce going forward. The approach was exactly the same- great wine is made in the vineyard- let the terroir speak for itself – minimal intervention in the winemaking process – excellent grapes from an excellent vineyard in the best barrels – handle with care!"
Did all the heartbreak pay off?
Short answer: Yes.

Longer answer: While not as supple as the 2005, the 2007 is every bit as structured and dense, and thanks to a heaping helping of acidity and boatloads of cassis and black cherry fruit, it carries its 15% abv effortlessly. The finish isn't crazy-long but is certainly in very respectable territory, delivering hints of cocoa, dried cherry and fig. You'll need hours of decanting if you are comfortable enough in your own moral baseness to commit the crime of opening this wine before 2015, after which it will, in all likelihood, really be getting its act together. The combo of dense, focused fruit, strong but never-harsh structure and overall balance put this wine into the "Kick-Ass" realm for me.
Thanks to Volta, you don't need to take my word for any of this – you can try it for yourself, at a discounted price.
[ I need to note here that the discount was Steve's idea, and his way of saying 'Thank You' to the 1WD readership – it was in no way a condition of a sample or review; the review was my idea, and I just couldn't pass up the opportunity to be the first to chime in on Volta's "comeback" release! ]
Today through Tuesday (Dec. 7, 2010), if you purchase Volta's wines via their website you can get 10% off of any order, and free shipping on cases of six or more bottles, for being a 1WineDude.com reader – just enter the promo code 1winedude at checkout.
Cheers!