Imagine this scenario…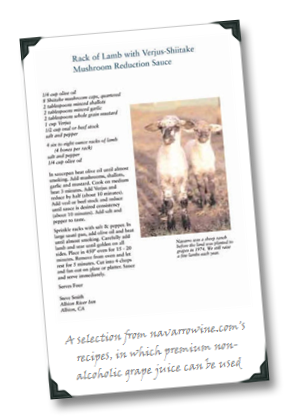 You pour yourself a glass from a premium bottle, the aromatic liquid spilling forth with the tell-tale floral and stone fruit aromatics of high-quality Riesling. You take a long whiff, then a sip, swooshing the liquid around in your closed mouth to get all the volatile compounds going, noting the secondary aromas and overall presentation that identify the growing conditions of the vintage from which the grapes were harvested.
Then you pass the glass to your eight-year old daughter, who downs the rest of it unceremoniously.
This scenario can happen, with no ill effects to your pre-teen offspring, and all quite legally, if the juice happens to be from one of the $10 bottles made by the likes of Virginia's Oakencroft Farm or Oregon's Draper Valley Vineyard that are offering high-end, vitis vinifera grape juice – as reported earlier this month on USAToday.com.
As in unfermented grape juice. Like Welch's, only made from vintage-dated Pinot Noir, Chardonnay, Cabernet Sauvignon, Gewurztraminer, and the like. Navarro Vineyards has been doing it for decades, in fact.
Why am I mentioning this? Because I'm fascinated by it, for a number of reasons.
First off, if you have too many grapes on your hands this is a brilliant way to put them to potentially profitable good use. And while alcohol is an important element of body and even flavor, this is also potentially an amazing tool for introducing people (and kids!) to different fine wine grape varieties, without the buzz (apparently, keeping the grapes from fermenting is one of the primary challenges in the fine grape juice biz, by the way). And the juices could spice up recipes that otherwise call for wine (Navarro sort of suggests this via their Verjus cookbook).
I'm not sure I'll ever look at Welch's quite the same way again (even if it will be to pause momentarily at the refrigerated section of the grocery store to give silent thanks that those Concord grapes never reached fermentation)…
Cheers!