"Why you want to keep trying?
You never get it right
When you could be living day for night

Live my dream
There's no dancing in between
Why not let it go?"

– "Day for Night" by Spock's Beard
Quite often, I find myself delving into the wine sample pool and coming up empty. Not in terms of empty hands, but empty fulfillment. While I'm not shortchanging this wine thang – because I love it – the sample volume is such that I can sometimes open a dozen bottles for tasting and not find one that I personally want to drink over the course of three days, savoring its development, seeing how it reacts with different cuisine, etc., etc., etc.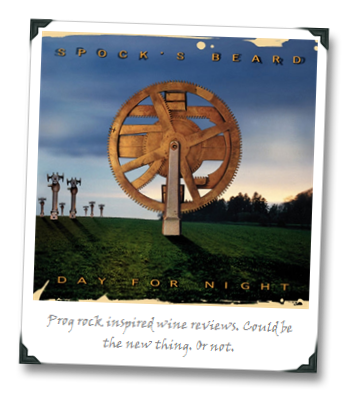 More often, I give up, pour a glass of whatever I happened to like best, and go back to things like trying to figure out how to use the word "demiurge" in a wine review (go ahead, try it…).
Anyway, sometimes the fates smile, and offer wines that are so brilliant in their presentation that I have to don metaphorical shades, and then I sort of fall in love with them a little bit. Today is about two such wines, as different as a breezy, sunny Spring day and a sultry, moon-lit Summer night, but both shining with equal wine geek-rapture-inducing brightness. Like the addict who constantly chases after the elation of the first fix, I live day-for-night (also the name of a kick-ass prog rock album, by the way) for these moments. Damn, that looks sadder in print than it is supposed to sound when someone says it.
Best to get on with these recommendations, before I mangle any more mashed up similes (or spend any more time on the virtual psychoanalyst couch). The only remaining preamble is a word of caution, as we're about to enter some serious high-price-point territory (I know you're up for it, though!)…

2011 Domaine William Fevre Les Clos Chablis Grand Cru (Chablis, $100)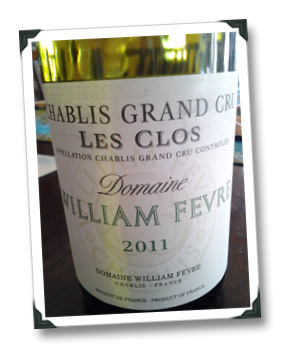 Ah, good old Chablis; beguiling in its austerity, and low-ish abv, both of which are de rigueur for the wine cool kids right now (though I am more of a lukewarm kid, I am not judging here because I love the stuff, too); and largely horded by France and the UK (suggesting that both of those countries are no havens for idiots when it comes to white Burgundy), who snatch up an enormous combines percentage of its market, leaving a paltry 6% of its wares for the U.S. and Canada combined.
Given Chablis's status among the wine geek crowd, I'm in the odd position of having had a lot more aged Chablis than I have young Chablis, giving me a sort of inverted view of the region. From my experience, the Premier Crus can sometimes age well for decades, and the Grand Crus (which only account for about 2% of Chablis production) at the tippy-top of the AOC pyramid can be stunning in their wine dotage years. <warning "pompous a–hole sounding comment in progress"> From my limited experience with these stellar wines I can tell you that of the seven Grand Cru climats, Les Clos tends to be the more overtly mineral, less overtly fruity, and generally more searingly austere of the bunch (though we're really splitting hairs here). </warning>
So, how do I begin to describe Fevre's Les Clos? In a word: stunning. This is austerity at its most stubborn fineness, with a finish that's all wet stone and toasted apples, piquant and "mineral-driven," lasting for minutes and eventually giving way to a lemony tang. The palate? Marked by minerals, lemons, spice and honey, a touch of white flowers, white peaches, vibrancy & zest (in all senses of the word). The nose? Oyster shell. Hell, even the oyster itself, and its saline, too. Chalk. Grass. Gorgeous, flirtatious, and clever, with no fat whatsoever. It will make you say things like "flint out the ya-yas." I suspect it will outlive a fair percentage of those reading this review, based on how tightly wound it is. Not an obvious wine at all, and it will be utterly lost on those wanting a quick fix.

2008 Donnafugata Mille e una Notte Contessa Entellina (Sicily, $75)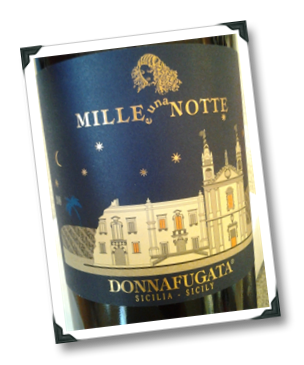 Named for "thousand and one nights," it could easily be taken as about a thousand and one reasons to love high-end Nero. Sicily is home to some stellar wine bargains at the moment, and this is not one of them. Having said that, this beauty from Sicily's southwest it is stellar, but it's hardly a bargain, though I'd argue it's absolutely fairly priced. This is Nero d'Avola is sultry Persian-princess-from-an-action-film form; lovely, powerful, sexy, disarming, able to also kick ass if needed.
Apart from the high price tag, intense acidic vibrancy, and loooooong finish, Mille e una Notte is the polar opposite of Fevre's Chablis: deep, chewy, dark berry, cherry, and fig fruits, aromatic tobacco and chocolate overtones, and energetic bouts of showiness. After Fevre's serious but refreshing day, this one is like cutting it a bit lose at night. If you visit this one, bring ostrich burgers (seriously – you'll thank me later).
Cheers!